Anguilla Guide
Know Before You Go...®
You're in the right place to find all sorts of useful information about Anguilla. Use the Island Guide below to read an overview about the island! We understand you may not know much about Anguilla - that's what we're here for!
Why Anguilla?
Twelve miles of beautiful white-sand beaches
Quiet, peaceful and off the beaten path
Spiny lobster barbecue on Scilly Cay
Greg Norman 18 hole championship golf course
Music Festivals!
History
Some 4,000 years ago, Anguilla was a lush island covered in dense rain forest. It was discovered by Amerindian peoples from South America's mainland. They called Anguilla "Malliouhana", which meant arrow-shape sea serpent.
Evidence of these Amerindians as old as 3,300 years has been found at the eastern end of Anguilla. Shell axes, conch shell drinking vessels, and flint blades from the pre-ceramic era have all been found on Anguilla.
Christopher Columbus sailed by Anguilla in 1493 but never landed. During this time the Europeans changed the island's name from Malliouhana to Anguilla, for its long eel shape.
Anguilla first became colonized in 1650. English settlers found that the soil in Anguilla was good for growing corn and tobacco, so plantations began. When they arrived on the island, there were no Amerindians inhabiting Anguilla, but by 1656 Indians from a neighboring island destroyed their settlement.
In 1666 a French expedition captured Anguilla. The following year the island was returned to Britain under the Treaty of Breda. In 1744 Anguilla, assisted by privateers from St. Kitts captured the French half of neighboring St. Martin.
Retaliation came on May 21, 1745, when two French frigates and some small craft attacked at Crocus Bay. The Anguillians repulsed them in less than fifteen minutes. St. Martin was returned to the French in 1748 under the Treaty of Aix-la-Chapelle.
Anguilla possessed a plantation economy like most of the Caribbean in the 1800s. Rum, sugar, cotton, indigo, fustic and mahogany were its chief exports. However, the soil on Anguilla was thin and unreliable rainfall made conditions for a plantation economy unfavourable. Estates were small and could not employ many slaves. Eventually, slaves began to develop into individual peasant proprietors, fisherman or sailors, which increased their personal independence.
The 1830's brought the union of St. Kitts -Nevis-Anguilla on Britain's recommendation.
In 1958, St. Kitts -Nevis-Anguilla became part of the Federation of the West Indies. The Federation collapsed in 1962, which resulted in individual constitutions for most islands St. Kitts -Nevis-Anguilla was made an associated statehood, a political decision that sparked the Anguilla Revolution. Anguilla wanted its independence from the state and the proposed union was not a viable option for the island.
May 30, 1967 is celebrated today as Anguilla Day. This day commemorates the repulsion of the Royal St. Kitts Police Force from the island.
On December 19, 1980, Anguilla became a separate Dependent Territory.
News and Notable
LeBron James, Paris Hilton, Justin Timberlake, Liam Neeson, Justin Bieber, Denzel Washington, Sandra Bullock, Leonardo DiCaprio, Billy Crystal, Ellen Degeneres and Robert De Niro have been known to frequent the island. Michael Jordan, the basketball legend, frequently stays on the island in the company of his fellow talents.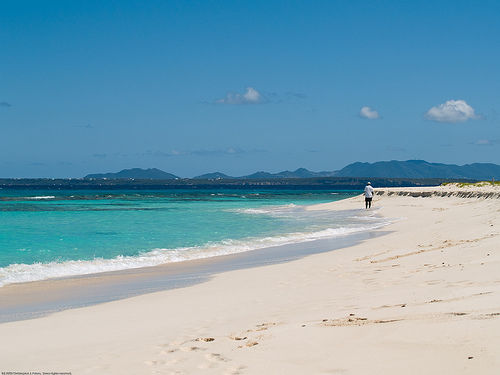 Great snorkeling and beautiful conch found on Prickly Pear Cays
Prickly Pear Cays is two small, uninhabited islands located just 6 miles north of Road Bay, Anguilla. They are divided by a narrow channel into Prickly Pear east and Prickly Pear west. Both offer 360 degrees of powdery sand and turquoise water. It's popular among swimmers and snorkelers looking for a less crowded experience.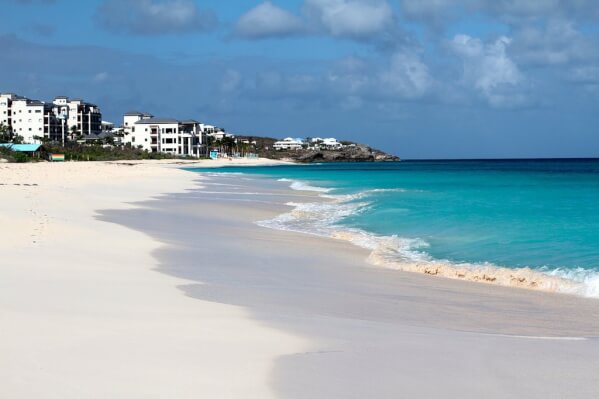 Anguilla's Shoal Bay East is a beach lover's paradise
Anguilla is simply a beach lover's paradise and of the 33 magnificent beaches, Shoal Bay is our top pick. The 2-mile strand of perfect white sand has been named the world's best beach by many of the top tourist magazines, which means a good portion of the beach is lined with villas, small resorts and umbrellas. There are several great open-air restaurants bumping with live music and rum punch.
Transportation on Anguilla
Getting to Anguilla and getting around. Our transportation tips will help make your trip smoother. More good sand advice.
Entry Documents
All visitors must present a passport upon entering Anguilla along with a return or onward ticket, all documents needed for next destination, and sufficient funds for the duration of their stay. The passport must not expire for at least 6 months after entering the country even if you do not intend to stay that long. There should be at least 1 blank page in the passport for any entry stamp that will be required. A visa is not required for a maximum stay of 3 months.
All Americans traveling by air outside the US are required to present a passport to re-enter the US.
Airlines Flying Here
There are no direct international flights into Anguilla, so you will need to fly in from Puerto Rico or St. Maarten, or take the 20 minute water taxi from St. Maarten.
International

Air Canada

Air France

American Airlines

Delta

JetBlue

United Airlines
Regional:

Anguilla Air Services

Cape Air

Seaborne

Tradewinds
Airport
Clayton J. Lloyd International Airport (formerly Anguilla Wallblake Airport)
Departure Tax
There is a departure tax to be paid in CASH to the Government of Anguilla upon island departure, effective 2021.
• Guests 12 years and up: $28.00/person
• Children 5 - 11 years: $18.00/person
• Children 2 - 4 years: $8.00/person
• Babies 0 - 1 year: $
Driving
On the left. Average speed is about 30 mph. A valid license from resident country required to obtain a temporary Anguillian drivers license for US $25.00 that is issued on the spot by car rental agencies and valid for up to 3 months.
Local Transportation
Renting a car is the best way of getting around the small island of Anguilla, allowing for the most flexibility and mobility, even if it's just for a day or two of sightseeing. Public transportation, apart from a usually reliable taxi system, is non-existent, which includes Uber/Lyft.
Anguilla Weddings and Honeymoons
Vacationers don't just stay in Anguilla villas - they come to paradise to get married and celebrate their honeymoons! Both parties must be present on Anguilla for at least 48 hours before the license application can be started. There is a mandatory fee of $280.86USD, and birth certificates, passports and divorce papers/death certificate (if applicable) are required. The license application is available from the Judicial Department (open 8:30 a.m. to 2:30 pm weekdays) and must be completed and processed.
See our favorite villas for weddings.
Know Before You Go...® - Anguilla Travel Tips
Before making their way to Anguilla villas, vacationers like to know a little bit of helpful information to make them feel more at home during their stay. Take a look at our travel tips to make your time in villas in Anguilla even more relaxing.
Size:
35 square miles, 16 miles long, 3 miles wide, about one-half the size of Washington, DC
Electric Current:
110/120
Time:
17:46 pm zone:-4
(GMT/UTC -4)
Official Language:
English
Currency:
Eastern Caribbean dollar (EC) or XCD - U.S. dollars are widely accepted. The current exchange rate is US$1 = EC$2.70. No need to exchange money to EC before traveling. Major credit cards, although not always American Express, are widely accepted. Some small vendors charge a percentage to use credit cards so it is worth asking. Bring cash for taxis, gasoline, roadside stands, tips and out-island travel. ATM machines are available, but use the bank locations, not free-standing machines.
Tipping and Taxes:
TIPPING: It is entirely up to you and how you feel their service is, but here is a general guide for Anguilla:
Housekeeper: $15 to $25/day
Taxi/Water Taxi: 10% of the total cab fare, plus $2/piece of luggage
Maintenance staff, if required: $10/day or visit
Beach attendants, $10 to $15/day
Restaurants: Service charge is 15 - 25% of the cost of the meal, depending on service. Check your bill closely as it may already be included. The service charge is actually split among the entire staff (waitstaff, kitchen and cleaners). If you want to reward YOUR server, you can always leave a tip on top. Also, many times the bill will be in US Dollars so you will want to confirm.
TAXES:
12.5% sales tax
10% accommodation tax
Dress Code:
Barefoot elegance, with beachwear during the day, but coverups are needed in public areas. By night, dressy shorts and blouses, or sundresses for the women. For the men, smart attire such as nice shorts and a collared shirts. There are no nude beaches, and going topless is not permitted.
Topography:
Low-lying and undulating island of coral and limestone, with 33 white-sand beaches.
Telephone:
Area code (264), plus the local 7 digit number.