Aruba Guide
Know Before You Go...®
You'll find that planning your trip to Aruba
will be a snap if you take advantage of the tips and information available under the tabs on this site. Accommodations like villa rentals, hotels, and resorts are all described in depth to make planning your stay in Aruba easier than ever. Do you need a rental car, or want to locate your villa?—there's a tab for those tasks. While on the island you can enjoy duty-free shopping, exotic foods, and water sports of every description or just languish on the miles of white sand beaches and let your worries disappear with the tropical breezes.
Why Aruba?
Windsurfing especially at Fisherman's Hut or Bachelor's Beach
Palm Beach and the divi divi trees
Tierra del Sol - a world class 18-hole golf course
The largest natural coral rock bridge in the Caribbean
Shopping and casino action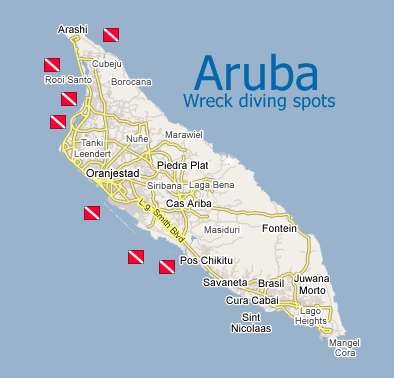 Scuba Aruba's 7 shipwrecks
If you're into scuba diving and exploring ship wrecks, Aruba's the place to be. Scuba Diving magazine has consistently listed Aruba as a top wreck diving spot for the last 12 years. It's a feat the island takes great pride in. The 7 wreck sites that are littered along Aruba's north and western shores are a rich historical collection including a pilot boat, Convair 240, oil tanker, fuel barge, steamship and freighters. With so many dive sites, there's something for all experience levels.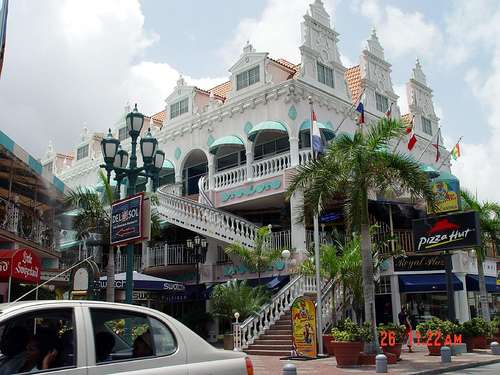 Stroll through shops in Orangestad
In Oranjestad, head to the heart of the city where brightly painted, old Dutch colonial offer a rich shopping experience. The Royal Plaza Mall, on L.G. Smith Blvd., houses a number of shops. Next door is the 90-shop Seaport Village Mall, part of it underneath the Renaissance Aruba Beach Resort & Casino, and across the street on the piers is the Seaport Marketplace. There are also a number of shops on Main St. (Caya G.F. Betico Croes), a couple of blocks from the waterfront. Spend the day browsing these duty-free shops and you'll find locally made handicrafts, souvenirs, Cuban Cigars, Dutch Delft, Dutch Cheeses, liquor, jewelry, table linens, perfumes, leather goods, designer fashions, electronics, cameras, and more. Oranjestad can get really crowded when a cruise ship is docked, so the best time to shop is when there isn't a one in port. Most of the stores are open from 9:00 a.m. until 6:00 p.m., but some close between noon and 2 for lunch.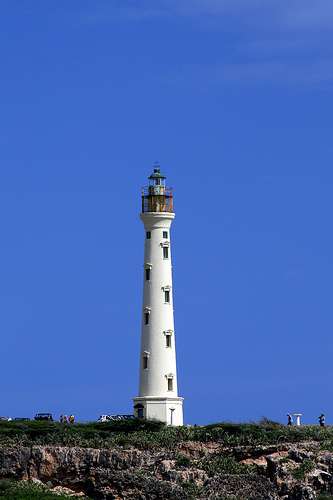 The lighthouse named "California" makes a great backdrop for pictures
In 1910, at Aruba's far northwestern end in an area known as "Hudishibana," a lighthouse was built. It was named "California" after a steamship which sank nearby 2 years prior to the lighthouse's construction. With stunning view of sandy beaches, rolling sand dunes and the rocky coral shoreline, it's no wonder the lighthouse is one of Aruba's most popular attractions. You can't go inside, but its high seaside perch makes for beautiful pictures. It's located just a few yards from the Tierra del Sol golf course and La Trattoria el Faro Blanco restaurant which translates to "Restaurant by the White Lighthouse".
Transportation on Aruba
Getting to Aruba and getting around. Our transportation tips will help make your trip smoother. More good sand advice.
Entry Documents
US Citizens need a valid USA passport.
Airlines Flying Here
American Airlines, Continental, Delta, Jet Blue, Spirit Airlines, United, US Airways
Air Canada, Avianca, Copa, KLM Royal Dutch Airlines, Surinam Airways
Airport
Queen Beatrix International Airport
Departure Tax
$34.25 U.S
Driving
On the right - need to show driver's license to rent a car.
Aruba Weddings and Honeymoons
Vacationers don't just stay in Aruba villas - they come to paradise to get married and celebrate their honeymoons! Civil ceremonies held weekday mornings at the islands' Town Hall. Private ceremonies can be held elsewhere.Cost: Documents Required: Couples must present a marriage license, an original birth certificate, and copies of passport ID pages for the couple a
Know Before You Go...® - Aruba Travel Tips
Before making their way to Aruba villas, vacationers like to know a little bit of helpful information to make them feel more at home during their stay. Take a look at our travel tips to make your time in villas in Aruba even more relaxing.
Size:
193 sq km, slightly larger than Washington, DC
Time:
03:55 am zone:-4
(GMT/UTC -4)
Official Language:
Dutch (official), Papiamento (a Spanish, Portuguese, Dutch, English dialect), English (widely spoken), Spanish
Currency:
Aruban guilder/florin (AWG)
Topography:
flat with a few hills; scant vegetation
Telephone:
international: country code - 297