Barbados Guide
Know Before You Go...®
So what is Barbados really like? What is there to see and do when you step outside your villa rental? Find out using the tabs on this page, where you can learn more about Barbados. Whether you want to lounge at the beach or tour plantation homes, you can learn more about these activities and others, as well find out other helpful information before your trip to this fun-loving island.
Why Barbados?
Barbados is the easternmost island in the Caribbean.
The island is known for its coral reefs and beaches.
Barbados is home to the world's oldest functioning parliament, established in 1639.
The capital of Barbados is Bridgetown, which is a UNESCO World Heritage Site.
Barbados is the birthplace of rum, and the world's oldest rum distillery is located on the island.
History
First occupied by the British in 1627, Barbados remained a British colony until internal autonomy was granted in 1961. The island gained full independence in 1966, and maintains ties to the British monarch represented in Barbados by the governor general. The British influence remains intact, however, as evidenced by the afternoon tea served at many hotels on the west coast, in St. James parish, and English is spoken throughout the island.
News and Notable
Rihanna is the poster girl for the island. Simon Cowell and model Cara Delevingne are also regulars on the island.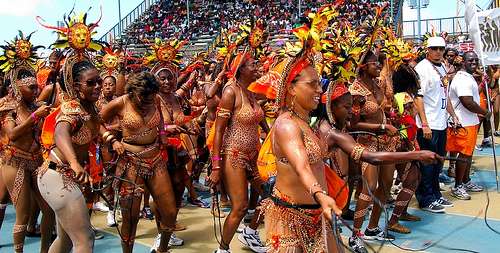 The fantastic Barbadian festival celebrating the end of the local sugar cane crop.
Lasting for approximately 5 weeks, and commencing in July, Crop Over is a Barbadian festival celebrating the end of the local sugar cane crop harvest - hence it's name. The cultural diversity of the island is showcased throughout the festival through exhibitions, concerts, street markets, parades and of course mega dust-to-dawn parties.
Barbados is a surfing paradise. Get Zed to teach you how to surf!
Zed Layson was born and raised on the island, and he began surfing at the age of 7. Zed has gained a lot of great experiences surfing and competing all over South America, the United States and of course, the Caribbean. His surf school is staffed with patient instructors, and there are group and private lessons available.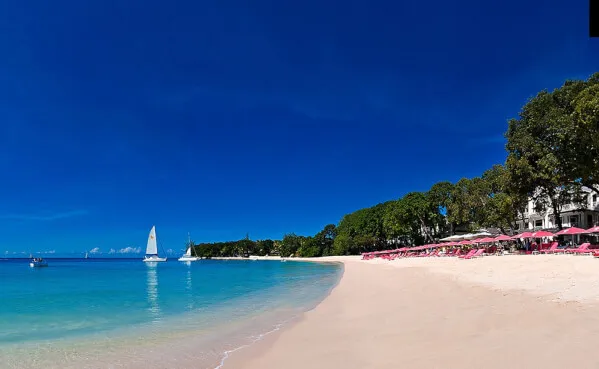 The best beach on the island. Walk by the hotel and see if you can spot a VIP.
This magnificent beach is situated on the west coast of Barbados, just south of the Holetown area. Widely known as the "Sandy Lane" beach, this stretch takes its name from the luxurious Sandy Lane Hotel which is nestled in the mahogany trees, directly offshore.
Transportation on Barbados
Getting to Barbados and getting around. Our transportation tips will help make your trip smoother. More good sand advice.
Entry Documents
Passport, return ticket & intended address.
Airlines Flying Here
American Airlines

jetBlue

Caribbean Airlines

Air Canada

WestJet

Air France

British Airways

Copa

Air Antilles Express

Virgin Atlantic

Condor.
Airport
Grantley Adams International Airport, Barbados (BGI), is 13km (8 miles) east of Bridgetown, in the parish of Christ Church.
Departure Tax
$27.50 for all passengers over the age of 2. Passengers flying outside of the Caribbean region pay $70 pp, and those flying within the Caribbean pay $35 pp. Most airlines include this with the cost of the ticket.
Driving
On the left - need to have a valid driver's license (for at least 2 years) from your home country, and will need to purchase a Barbados driving license. Most companies will require the driver be over 23 years old.
Child seat law: All children traveling without an adult in the back of the vehicle must have carseats. However, if the adult is travellng in the rear of the vehicle with the child, then no seat is required.
Local Transportation
Barbados has a good network of roads which covers the entire island. Also there is a fantastic public and private bus system that all use the sames stops. Taxis do NOT have meters but fares are regulated by the Government. No Uber/Lyft on Barbados.
Barbados Weddings and Honeymoons
Vacationers don't just stay in Barbados villas - they come to paradise to get married and celebrate their honeymoons! It is very easy to get married in Barbados as there is no required waiting period or minimum length of stay. Application for a marriage licence must be made by both parties in person at the office of the Ministry of Home Affairs in the capital city Bridgetown. You will need:
Valid passports or birth certificates.
Return tickets.
If either party was divorced, an original Decree Absolute or a certified copy of the Final Judgment.
If either party was previously married and widowed, a certified copy of the Marriage Certificate and Death Certificate in respect of the deceased spouse.
For a Roman Catholic ceremony, the relevant documents must be sent by your bishop to the bishop of Bridgetown.
Where necessary, all documents not in English must be accompanied by a certified translation.
A marriage license must be obtained in person from the Office of the Ministry of Home Affairs, General Post Office Building, Cheapside, Bridgetown. Telephone: 246-228-8950; Open Monday - Friday, 8:30 a.m. - 3:30 p.m.

FEES FOR THE LICENSE:
If neither party is a citizen or resident of Barbados: $100 and a $25 stamp
If either party is a citizen or resident of Barbados : $100 and a $10 stamp
FEES FOR CIVIL MARRIAGE CEREMONIES/Non-National:
$250 - Magistrate fee for ceremonies held in the court
$350 - Magistrate fee for ceremonies held out of the court

See our favorite villas for weddings.
Know Before You Go...® - Barbados Travel Tips
Before making their way to Barbados villas, vacationers like to know a little bit of helpful information to make them feel more at home during their stay. Take a look at our travel tips to make your time in villas in Barbados even more relaxing.
Population:
287,375 (2019)
Time:
23:30 pm zone:-4
(GMT/UTC -4)
Official Language:
English
Currency:
Barbadian dollar (BBD) - U.S. dollars widely accepted.
Tipping and Taxes:
A service charge of 10-15% will typically be added to your hotel and/or restaurant bill. Any additional tipping is at your discretion. The standard rate of tipping is approximately 10%.
Dress Code:
Even though Barbados is a tropical island, the dress code here is on the formal side, meaning that you'll want to cover up when not at the beach. Bring light clothes suitable for the tropics - loose tops, shorts & dresses for the ladies, shorts and polos for the guys. Cotton dresses and light jackets for formal wear. Some restaurants do have a dress code plus it's nice to dress up sometimes even when on holiday. Please note that it's illegal to have army/combat/camo type clothing or print.
Topography:
Relatively flat; rises gently to central highland region named Mount Hillaby.
Telephone:
International Country Code: 246 Dial +1 + 246 + 7 digit number