British Virgin Islands Guide
Know Before You Go...®
A visit to the British Virgin Islands guarantees natural beauty, time on the water, and plenty of sunshine. Sights like The Baths and Great Harbour offer a unique glimpse into the beauty and adventure of the islands. If you've settled on a villa rental in the BVI, then you're in for the vacation of a lifetime. We've got all the information you need to plan your dream tropical getaway.
Why British Virgin Islands?
Visit the granite boulders and grottoes at The Baths in Virgin Gorda!
Snorkel in Anegada's Horseshoe Reef, which has shipwrecks and bone fishing spots.
Rent a boat in North Sound and sail, jet ski, or yacht around the islands.
Hike through the mountains of Gorda Peak or Sage Mountain National Park for the best views of the BVIs.
Snorkel through the former home of pirates ships and buried treasure in Smuggler's Cove.
Go SCUBA diving through shipwrecks all over the archipelago.
Drink at beach bars on every island: Foxy's, Soggy Dollar, Bomba's, Pirates Bight, and Willy-T to name a few.
British Virgin Islands Weather/Climate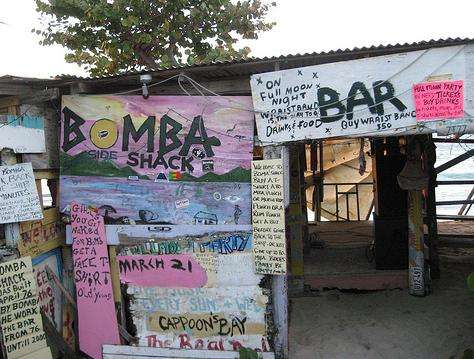 Full-moon parties
Visit Bomba's Surfside Shack in Cappoon's Bay on Tortla, where panties and bras dangle from the ceiling. Signs flank walls saying, "Get naked for Bomba" and "Girls with big boops: give Bomba a hug." For more than 30 years Bomba has served up his legendary Bomba Punch and mushroom tea which he says will make you feel like at teenager. Then there's Bomba's Full-Moon parties. Bomba says, "Full Moon Party is over a blonde girl was once my wife...And once a month she ran away. So I had to throw a party on the moon to keep her home." In 1989 the parties began and continue on each full-moon date today. The Shack has been featured on E! television's "Wild On the Caribbean", in countless travel magazines and in Sport Illustrated's Swimsuit issue. Open daily from 10am, the Shack is a full-service bar and restaurant.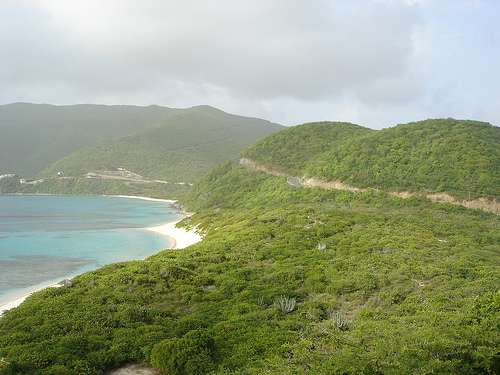 Hiking Gorda Peak
At 1370 feet above sea level, Gorda Peak is the second highest peak in the British Virgin Islands. Renowned Philanthropist, Lawrence Rockefeller, donated the 265 acres of dry forest surrounding the peak to the National Park Trust in 1974. This dry forest is home to native reptiles, amphibians, birds and bats, making this park one of the most biologically diverse. Hike to the lookout tower at the peak for stunning, panoramic views of the BVIs.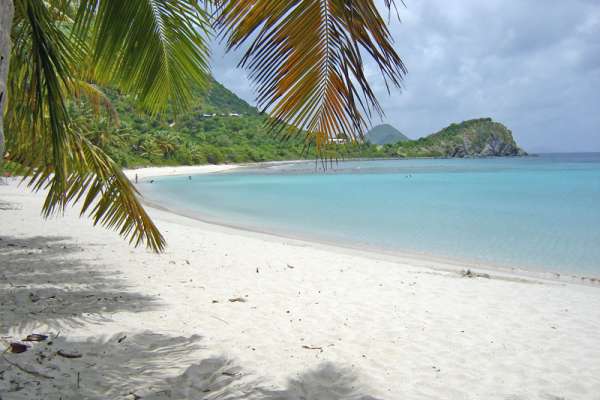 Snorkling in Smuggler's Cove
Located on the north shore of Tortola and best access by foot, remote Smuggler's cove is a great snorkeling spot especially on the eastern tip of the cove. This beautiful crescent bay is quiet, never crowed and has a coral bank about 100 feet off the shore. You can rent snorkeling equipment and loungers from a friendly vendor who sets up shop daily. There's also a small beach bar and a snack stand if you get hungry. The dirt road to Smuggler's Cove makes getting here difficult, but once on the beach you'll agree the trek was worth the trouble.
Transportation on British Virgin Islands
Getting to British Virgin Islands and getting around. Our transportation tips will help make your trip smoother. More good sand advice.
Entry Documents
Passport is required for all visitors. A return or on-going ticket is also required by all.
Airlines Flying Here
American Airlines flys directly from Miami to The Terrence B. Lettsome Airport (Beef Island, Tortola). There are no direct flights from Canada, Europe, or South America to the BVI's airports. The Terrence B. Lettsome Airport has daily flights with stops in San Juan from InterCaribbean, Liat, Windward Island Airways, Seaborne Airlines, American Airlines, Cape Air, Delta, and JetBlue. VI Airlink flies from St. Thomas, Beef Island, St. Thomas, and Virgin Gorda to Anegada. Cape Air has service to Virgin Gorda from San Juan, PR and St. Thomas, USVI.
Airport
Terrance B. Lettsome International Airport, formerly known as Beef Island Airport, is the BVI's main airport. Auguste George Airport is the northernmost airport in the islands, located on Anegada. Virgin Gorda Airport is in Spanish Town, and is open to a
Departure Tax
The airport departure tax is $50 pp in Beef Island and $35 pp in Virgin Gorda – payable in USD at the airport. Environmental Levy: $10 per person payable in USD at the port of entry upon arrival.
Driving
Drive on the left-hand side of the road.
Local Transportation
The British Virgin Islands are easily explored by car, and the best way to island-hop is by boat. Major islands, like Virgin Gorda, also has public transportation like an open-air safari bus.
British Virgin Islands Weddings and Honeymoons
Vacationers don't just stay in British Virgin Islands villas - they come to paradise to get married and celebrate their honeymoons! Getting Married In The British Virgin Islands
You may apply for your marriage license at the Attorney General's office located in the Government Administration Complex at Wickham's Cay I, Road Town, Tortola.
You must be in the British Virgin Islands for a minimum of 3 days prior to the wedding service and after having made application for your marriage license.
You will be required to purchase $110.00 in postage stamps if you have been in the territory for less than 15 days prior to the ceremony or $50.00 in stamps if you have been in the BVI for 15 days or more.
You will require passports as proof of identity and to establish your date of arrival in the BVI.
If you were previously married, you will be required to bring a certified copy or original documentation of your divorce (absolute decree) or death certificate of a deceased spouse.
Two witnesses will be required to oversee the signing of your marriage license application and two (different) witnesses are required to be present during the ceremony. (You may select persons from the BVI to serve as witnesses for either or both occasions.)
Once your application for marriage license has been completed, you may then proceed to the
Registrar's office (located above the Post Office) on Main Street, Road Town, Tortola. The office is open from 9:00 am to 3:30 PM, Monday through Friday and from 9:00 a.m. to 12:00 noon on Saturdays.
The Registar Requirements
Marriage ceremony fees are payable to the Registrar and are $35.00 if the ceremony is performed in the office and $100.00 if the ceremony is to be performed elsewhere.
Full (legal) names of both parties
Your ages and date of birth
Your occupations
The names of the witnesses for your wedding ceremony
If you are planning a church wedding, please contact the church of your choice and speak with the Minister or Priest regarding their requirements
See our favorite villas for weddings.
Know Before You Go...® - British Virgin Islands Travel Tips
Before making their way to British Virgin Islands villas, vacationers like to know a little bit of helpful information to make them feel more at home during their stay. Take a look at our travel tips to make your time in villas in British Virgin Islands even more relaxing.
Time:
18:59 pm zone:-4
(GMT/UTC -4)