Dominican Republic Guide
Know Before You Go...®
Savvy travelers who are looking for an affordable Caribbean vacation have made a wise choice in the Dominican Republic. Renting a villa here will put you in the middle of paradise, complete with miles of beaches, rainforests, lakes, mountains, and more. Outdoor activities combined with shopping and entertainment make for a great vacation, and you'll find all the information you need to know about the Dominican Republic here.
Why Dominican Republic?
Lake Enriquillo
Jimenoa River Rafting
Jardin Botanico Nacional - Caribbean's largest botanical garden, 445 acres
Altos de Chavón - artist community and shops
Beaches
Dominican Republic Weather/Climate
News and Notable
Frequent visitors include Drake, Jennifer Lopez and Alex Rodriguez.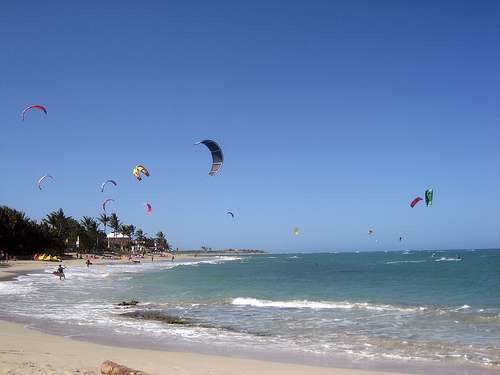 Dominican Republic is the kiteboarding capital of the world.
Dominican Republic's north coast offers the perfect mix of water, waves and wind making this the kiteboarding capital of the world. Using a board and the power of a large controllable kite, the surfer relies on wind and heavy gusts to propel him over the water and waves. This is one of the fastest growing water sports. If you're a beginner, you won't have any trouble finding experienced kitesurfers offering instruction. Die-hard kitesurfers from around the world meet annually at Cabarete Beach to compete in the World Cup Windsurfing Championship, the largest kitesurfing event in the world.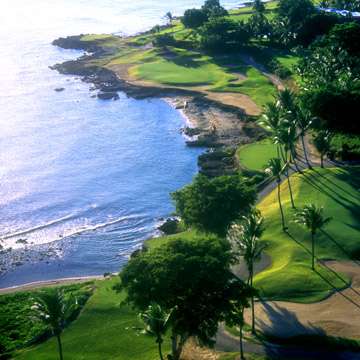 Casa de Campo is a golfers dream!
Casa de Campo is a golfers dream! This award-winning course was developed by Pete Dye, who is considered the world's most renowned golf course architect. Play the Teeth of the Dog, the Links or the new Dye Fore. Ranked in the world's top 30 for more than 25 years, it's no wonder the courses at Casa de Campo have gained international recognition. In April 2008, Golf Magazine ranked Casa de Campo as havingTHE BEST GOLF in the Caribbean! Other activities at Casa de Camp Resort include: tennis, private beach, water sports, pools, horseback riding, spa treatments, shooting, boating and excursions. Outstanding dining, entertainment, year-round programs for kids and teens, new marina & yacht club, shopping and the wondrous Altos de Chavon artists' village!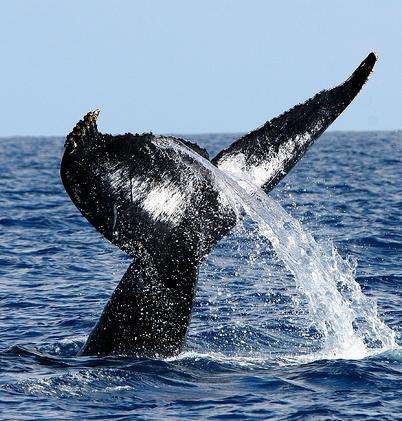 Whale-Watching -- Get your camera ready!
The Dominican Republic is one of the best places in the world to whale-watch. Thousands of humpbacks migrate here during mating season, which runs mid-January through mid-March. Catch a boat to Samana Bay and you may see as many as 300 whales frolicking just a few yards away. Whales race underwater, then launch into the air, and crash back into the water. It's a site you'll never forget. Cheering for more you may also see whales roll onto their backs and sides raising their tail and flippers high into the air and then slapping down on the water. Bring your camera. It's fun for the whole family!
Transportation on Dominican Republic
Getting to Dominican Republic and getting around. Our transportation tips will help make your trip smoother. More good sand advice.
Entry Documents
A passport is required for U.S. visitors as well as other countries.
Airlines Flying Here
American, Continental, Delta, Jet Blue, LAN Airlines, Northwest, Spirit Airlines, Sun Country, US Airways
Airport
Punta Cana Intl near Higuey, PUJ
La Romana Intl near La Romana, LRM
Gregorio Luperon Intl near Puerto Plata, POP
Cibao Intl, near Santiago City, STI
Herrera Intl, Santo Domingo, HEX
Las Americas Intl, Santo Domingo, SDQ
Departure Tax
As of April 1, 2018, arrival/departure tax is rolled into airline tickets.
Driving
On the right
Dominican Republic Weddings and Honeymoons
Vacationers don't just stay in Dominican Republic villas - they come to paradise to get married and celebrate their honeymoons! Permission from the American Consulate in Santo Domingo must first be obtained, then proof of citizenship documents (including original birth certificates and passports) must be presented to the Dominican Consulate for approval. Divorce and death certificates must also be presented, if applicable. Notarized documents must be submitted two weeks before the wedding and translated into Spanish. Cost varies.
See our favorite villas for weddings.
Know Before You Go...® - Dominican Republic Travel Tips
Before making their way to Dominican Republic villas, vacationers like to know a little bit of helpful information to make them feel more at home during their stay. Take a look at our travel tips to make your time in villas in Dominican Republic even more relaxing.
Population:
9,980,243 (2015 Census)
Time:
12:09 pm zone:-4
(GMT/UTC -4)
Official Language:
Spanish; English spoken in places.
Currency:
Dominican Peso (RD$) - U.S. dollars widely accepted. Major credit cards are accepted at most tourist locations, but it is best to check in advance at small hotels, restaurants and shops.
Tipping and Taxes:
SALES TAX: ITBIS (the value-added tax for transferring industrial goods and services) is 18% and is applied to most of the purchases you will make. TIPPING: In restaurants, bars and hotels a further 10% is added as a tip/service charge. It is customary.
Dress Code:
Dominicans like to dress elegantly; fashion, grooming and hygiene are very important. Depending on the occasion, Dominicans will dress either casually or formally. Around hotels and resorts, it is suitable to wear light clothing such as shirts, t-shirts,
Topography:
rugged highlands and mountains with fertile valleys interspersed
Telephone:
International: country code - 1-809