Jamaica Guide
Know Before You Go...®
If you've chosen Jamaica as your Caribbean destination, then you're in for an exciting adventure on this unique island. Away from your villa or hotel room, you'll find scenic natural beauty mixed with a distinct island culture that is unforgettable. Here you can stroll along the beach, swim underneath waterfalls, head to a reggae club, or dine at a great Jamaican restaurant. There's never a shortage of things to see and do, and you can use the information under this tab to help you plan your vacation in Jamaica.
Why Jamaica?
Annual Junkanoo celebrations(Christmas, Boxing Day and New Years)
Hike the trails of the Blue Mountains
Swim at the Y.S. Falls
Dunn's River Falls
Go horseback riding in the hills
Birdwatch in the hills and mountains
Blue Mountain coffee - considered by many to be the best in the world.
Visit the Reggae clubs!
Visit the Cliffside Cafe's in Negril: Rick's Cafe, Xtabi or the Pickled Parrot
History
Jamaica, one of the largest Caribbean islands, was inhabited by Arawak natives. When Christopher Columbus arrived on the island in 1494, he claimed the land for Spain. A few decades after Columbus' death almost all Arawaks had been exterminated. Spain held the island against many buccaneer raids at the main city, which is now called Spanish Town. Eventually England claimed the island in a raid, but the Spanish did not relinquish their claim to the island until 1670.
Jamaica became a base of operations for buccaneers, including Captain Henry Morgan. In return these buccaneers kept the other colonial powers from attacking the island. Africans were captured, kidnapped, and forced into slavery to work on plantations when sugarcane became the most important export on the island.
Many slaves arrived in Jamaica via the Atlantic slave trade during the same time enslaved Africans arrived in North America. During this time there was racial tension, and Jamaica had one of the highest instances of slave uprisings of any Caribbean island. After the British crown abolished slavery, the Jamaicans began working toward independence which was achieved in 1962.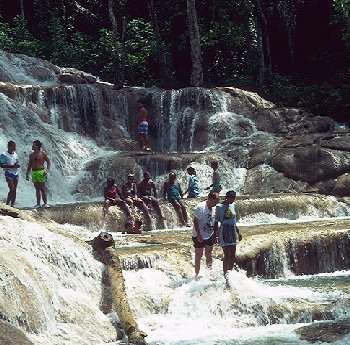 Hiking up Dunns River Falls
Dunn's River Falls, Jamaica's most popular attraction, is not only for visitors but film crews and photographers as well. It was prominently featured in the first James Bond movie "Dr. No." and countless other films. Visitors come to scale the waterfall, starting on the beach at the foot of the falls, then stopping along the way to enjoy the sometimes chilly pools. The hike can be challenging in places where rushing water pours over slick boulders, which is why water shoes are recommended. There are also snack shops and a craft market for those not inclined to such a physical activity.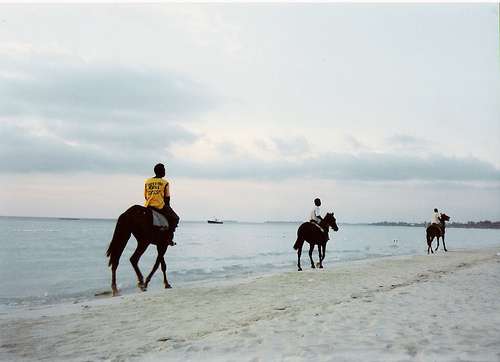 Riding horseback along the coastline
What better way to explore Jamaica's scenic country-side and white-sand beaches then by horseback. This family-friendly excursion will takes visitors across pastures and near waterfalls. Ride along the coastline, onto the beach, then splash in the ocean. The gentle horses have taken hundreds, sometimes thousands of visitors on breathtaking tours of the island. So as they say in Jamaica, "No worries, mon".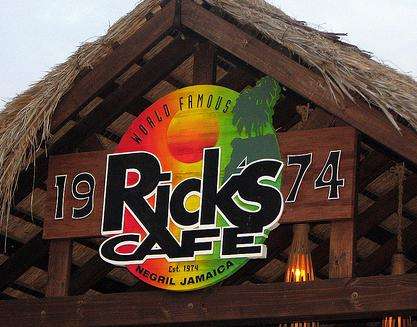 Sunset-gazing at Rick's Cafe
Since 1974, Rick's Café has offered visitors to Negril, Jamaica outstanding views from their cliffside location. Caribbean Travel and Life Magazine voted it one of the ten best bars in the world! Two hurricane's have destroyed Rick's but its popularity made for quick re-builds each time getting bigger and better. For more than 30 years, this spot has been the premier destination for gatherings and sunset gazing. By day, visitors can take advantage of the spacious decks, resort-style pool and diving cove. Adventure-seekers jump off platforms, the highest 35 feet above the sea, into the crystalline water below. The evening offers world-famous sunset views, Jamaican-style food and tropical drinks. When the sun slides behind the waves the party is on. With live entertainment and exotic drinks, Rick's is transformed into a moon-lit lounge.
Transportation on Jamaica
Getting to Jamaica and getting around. Our transportation tips will help make your trip smoother. More good sand advice.
Entry Documents
Proof of citizenship for Canadian citizens (passport or birth certificate with a photo ID). Passports required for U.S. citizens and citizens of other countries. All visitors must have an ongoing or return ticket.
Airlines Flying Here
MBJ
Airport
Vacationer's typcially fly into Sangster airport in Montego Bay. Kingston's Norman Manley airport is the second most highly used airport mostly for business or resident traffic.
Departure Tax
US$20
Driving
On the left - valid driver's license is required.
Jamaica Weddings and Honeymoons
Vacationers don't just stay in Jamaica villas - they come to paradise to get married and celebrate their honeymoons! Apply for a marriage license.Cost: Cost of wedding arrangmentsDocuments Required: Birth certificatesWait Time: 24 hours
See our favorite villas for weddings.
Know Before You Go...® - Jamaica Travel Tips
Before making their way to Jamaica villas, vacationers like to know a little bit of helpful information to make them feel more at home during their stay. Take a look at our travel tips to make your time in villas in Jamaica even more relaxing.
Time:
17:56 pm zone:-5
(GMT/UTC -5)
Official Language:
English, patois English
Currency:
Jamaican dollar (JMD) - U.S. dollars widely accepted.
Topography:
mostly mountains, with narrow, discontinuous coastal plain
Telephone:
international: country code - 1-876