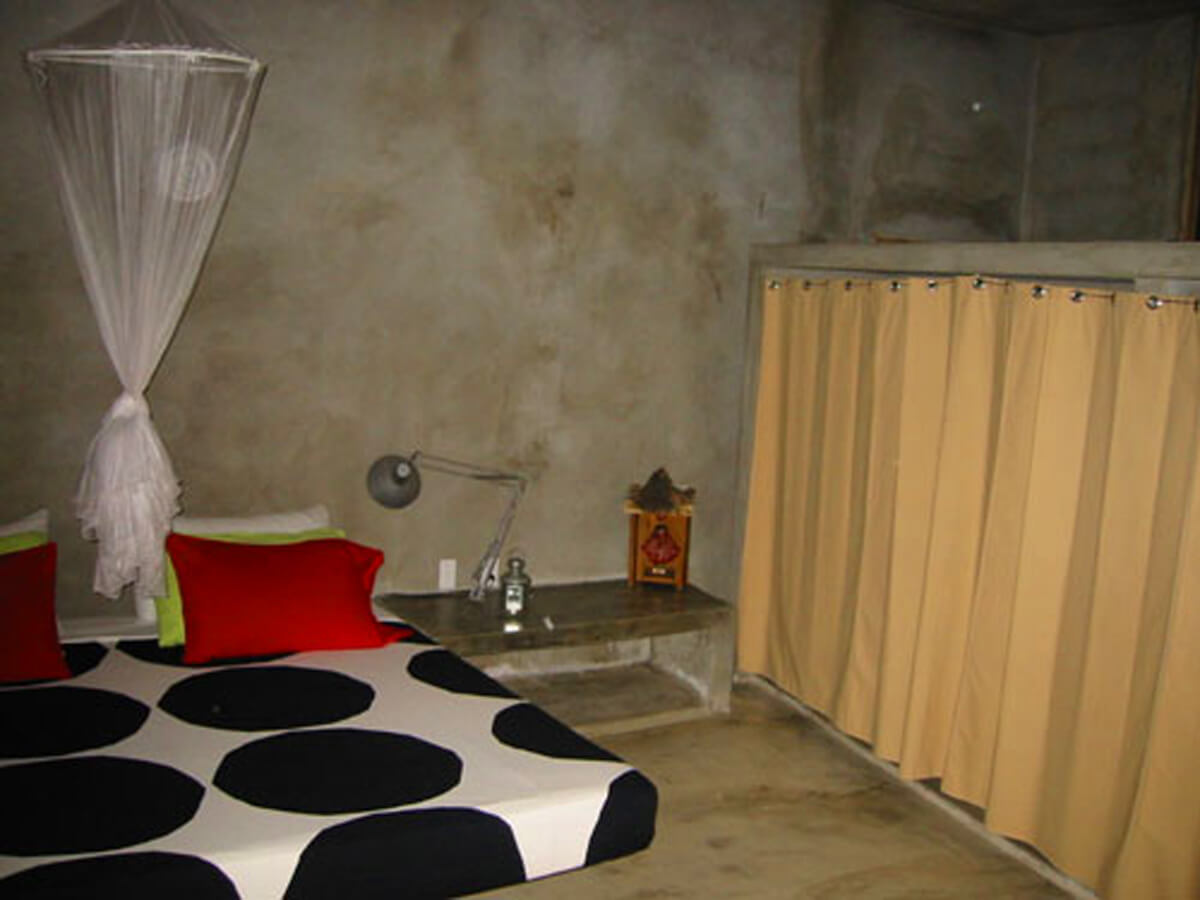 Retreat to the modern, cool concrete suites at one of the Caribbean's most distinctive and eco-friendly resorts in Vieques, Puerto Rico. Harried New England-ites have already discovered this al fresco hilltop retreat and relish it as an escape to find peace within and connect with nature.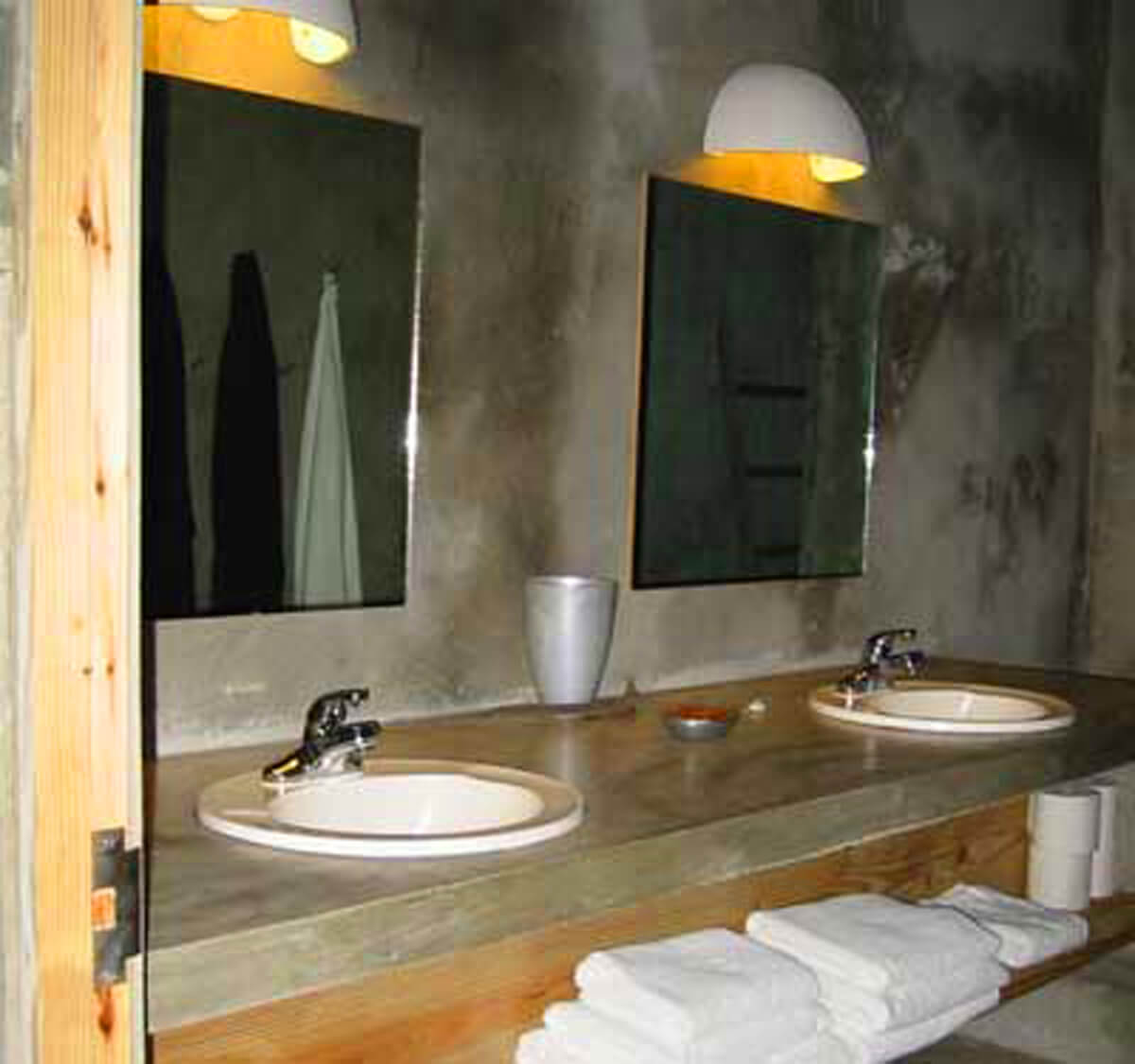 Visionary architect John Hix and his wife Neeva Gayle designed, built and operate the twelve self-contained loft apartments open to the sea breezes. Based on the "Wabi-Sabi" design principles of Japan, and hand sculpted from concrete and wood, the rustic elegance creates a surprising and stimulating experience for even the most intrepid traveler. Surrounded by 15 acres of nature in the Pilon district, Hix Island House realizes the ancient indoor/outdoor living adventure of past civilizations and envelopes guests in majestic star-filled skies and panoramic sea vistas from their living room deck or patio. Don't be surprised if birds, butterflies and other creatures of nature may join you in your paradise. Feel the special freedom of no glass windows (wood shutters and louvers control the elements) and be inspired by the minimalist furniture of Rietveld (De Stijl). Inviting cave like bedrooms with mosquito netting draped beds, Frette linens and Marimekko covers are fun and functional as well as quite comfortable. Hand smoothed concrete counters (a labor of love by Neeva Gayle's sister), tables and floors keep the interior cool and inviting. Basic, simple and fundamental design principles and applications of solar and wind power forge an intimate relationship between the natural environment and the contemporary structures. Imagine a quick rain shower in your living room while you enjoy Neeva Gayle's homemade bread and morning juice or coffee from the well stocked kitchen, paddling around in bare feet and draped in Neeva Gayle's luxurious sea island cotton robe or shirt before taking a refreshing shower in the outdoor shower court.

Rejuvenation, relaxation and renewal are hallmarks of Hix Island House and are facilitated by Jennifer, a local yoga instructor, and Rebecca, a masseuse. Jennifer teaches yoga on Tuesday and Friday mornings at 10:30 and on Sunday by request. The bell rings when the session is about to begin so you can leave your watch at home. Neeva Gayle may join you for class and don't let inexperience keep you away. Jennifer took us through an hour and a half of positions I would never have guessed I'd be in. If your tense muscles cry out from yoga stretching, Rebecca will massage out the soreness and heal your aches and pains. It would be a crime to come to this magical place and not treat yourself to the enjoyment of an open-air massage in your living room overlooking the green hillside and azure sea. Rebecca does both deep tissue and Swedish massage to further your quest for body and mind transformation. Swim in the uniquely designed pool with unending views across the Caribbean and soak up some sun on a padded lounge, all the while enjoying oneness with nature.

With all this rest and relaxation, what about food and drink you ask? Well, here you have the option of stocking up on groceries and cooking in, requesting additional meals, or taking a 10-minute stroll to the rural restaurants of New Dawn or Chez Shack. Local favorites include fresh fish, rice, tempting salads and your special Carib beer or frothy umbrella drink. The apartments are stocked with breakfast fixings, so lunch and dinner while you're out exploring the island is a fun way to go. A solar-powered coffee bar is adjacent to the yoga studio for a quick pick-me-up. Visit one of the finest restaurants on the island, Media Luna, with owners Ricardo and Monica as your hosts, featuring Mediterranean and International cuisine. Ricardo also brings in musicians for a monthly music night to the delight of residents and visitors on the island. Menu specialties include the divine Steak Frites, a seared then roasted filet mignon with a green peppercorn pan sauce and twice cooked potatoes. Seafood lovers will enjoy the seared sea bass filet with mango reduction, served with potato cakes and asparagus, or a Mediterranean style saffron-infused tomato broth loaded with shrimp, mahi-mahi, mussels, squid and pasta. Try the rack of lamb marinated in yogurt and Indian spices with tamarind rice and mint chutney, or the slow-braised veal shanks "Osso Bucco" with gremolada, herbed ricotta and pasta. They have added gourmet pizza to the menu and feature appetizers such as salt cod and potato fritters with tamarind and cilantro chutneys, shrimp salad and crispy cassava pancakes.

Car rentals are available through Steve, a well-known, colorful chap on the island. Roads are good on Vieques thanks to the (disputed) US military presence there. The gently rolling hillsides are lush with tropical foliage and largely undeveloped. Scenic views over the mountains to the sea enable you to see almost to the Virgin Islands on a clear day. Spend some time exploring the palm lined beaches of Sun Bay and Green Beach, 10 minutes away by car, good places to spend an afternoon snorkeling, beachcombing, or reading in the shade. Don't forget the sunscreen and bug repellent. A special treat is a visit to Bioluminescent Bay. Sharron leads night snorkel trips and swimming tours of this incredible phenomenon some call "fairy dust," created by microorganisms in the seawater. When you swirl the water, kick your fins, or watch a fish dart through the dark sea, the water sparkles with the bioluminescence resembling thousands of tiny fireflies lighting up the water. This is one of the highlights of a night snorkel, night dive, or moonlight swim. Don't miss it.

Perhaps a retreat into nature is just what you're looking for, or perhaps you want to share a special tropical paradise with family or friends. Hix Island House will accommodate couples, families, and small groups with equal ease. Revel in the peace and tranquility of an overlooked yet close Caribbean destination; experience the unique concrete dwellings and natural surroundings at Hix Island House. You will leave rejuvenated and refreshed, dreaming about your next visit to this amazing concrete retreat.