St. Croix, USVI Guide
Know Before You Go...®
Choosing St. Croix as your destination for an island vacation is a great idea, and whether you've decided to rent a villa or book a hotel room, you won't be disappointed with this scenic and slow-paced Caribbean gem. There's snorkeling and diving at Buck Island to keep you entertained, along with golf courses, casinos, and even a rum distillery that offers tours. Use the information on this page and under the other tabs to help you plan your trip to St. Croix.
Why St. Croix, USVI?
Great snorkeling and diving
Beaches and beach activities
Three golf courses
Casino fun!
Eco-Tourism
History
St. Croix has flown seven different flags. It has been colonized by Spain, Great Britain, the Netherlands, France, the Knights of Malta, Denmark, and the United States.
Arawaks and Caribs inhabited it prior to European colonization. Christopher Columbus visited here on November 14, 1493 at the Salt River. He called the island Santa Cruz ("Holy Cross").
His initial visit led to a battle in which one Spaniard and one Carib were killed. This began a warfare between the Spaniards and Caribs which lasted for over a century, until the Spanish abandoned the island.
In the seventeenth century, Dutch and English settlers settled the island. Eventually the Dutch abandoned their settlement. Next, the English settlement was destroyed by the Spanish, who retook the island in 1650. However, they in turn were immediately ousted by the French.
Today, the U.S. Virgin Islands remains under the U.S. flag. However, the islands are an unincorporated territory with a non-voting delegate to the United States House of Representatives.
Residents are U.S. citizens, but have no vote in national elections and generally do not pay taxes to the U.S. Internal Revenue Service, though taxes are paid, using U.S. law, to the Virgin Islands Bureau of Internal Revenue.
News and Notable
Tim Duncan, former NBA Basketball Player for the San Antonio Spurs, grew up here! Visitors include Annie Leibovitz, Bruce Springsteen, Jennifer Lopez, Gil Gerard, Kanye West, Kelly Ripa, and Seth Green.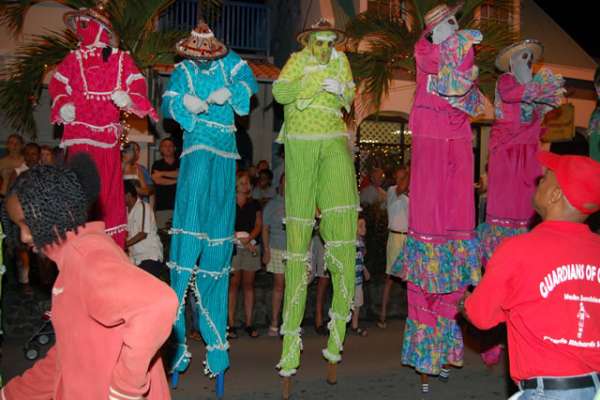 Jump Up Festivals happen four times a year! Fun for the whole family.
Jump Up Festivals happen 4 times a year - the streets close, there's live music on every corner, and dancing Mocko Jumbies! Fun for the whole family.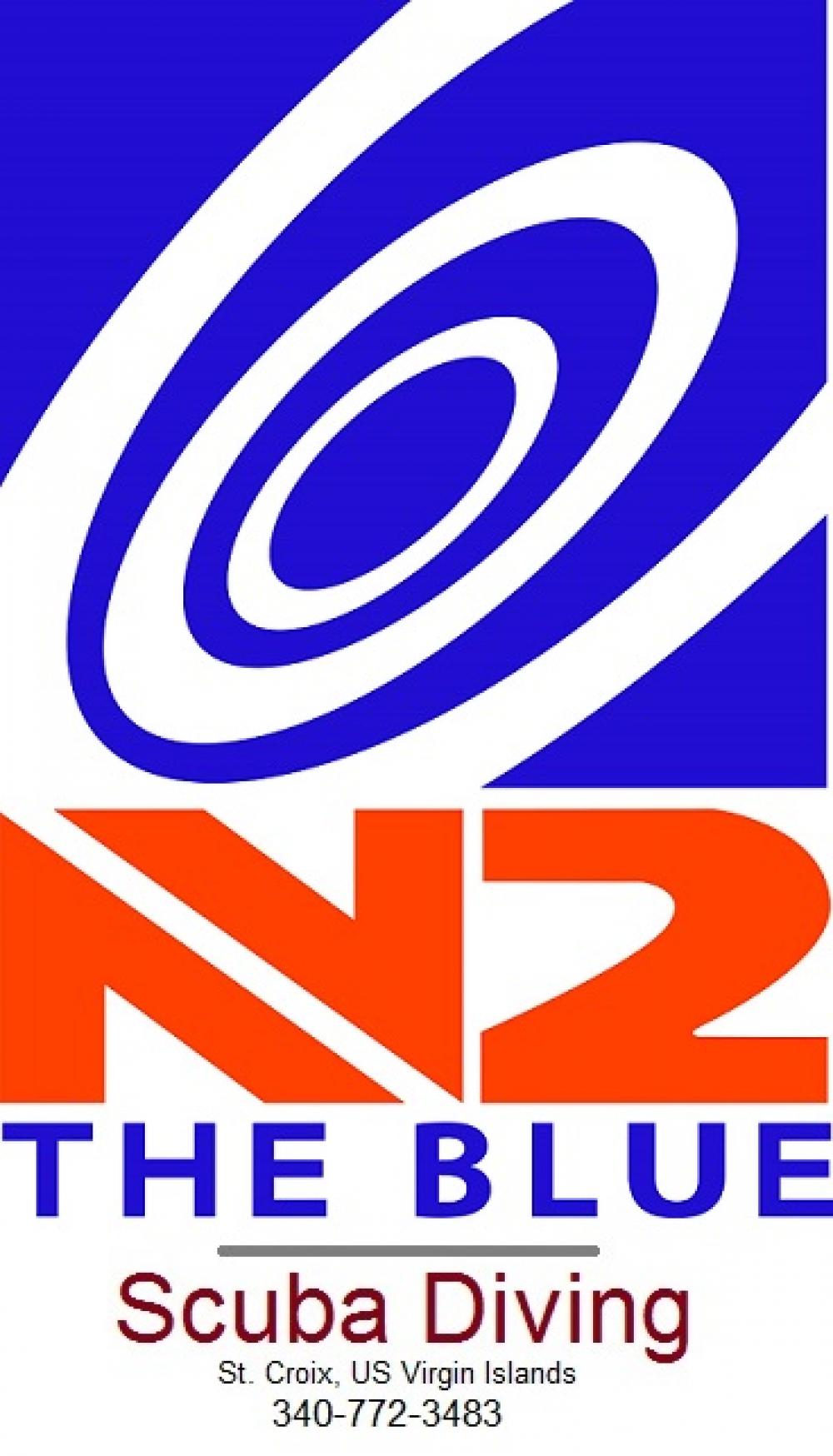 Dive
For a personal experience, the safety and service you desire, N2theBlue specializes in private and semi-private scuba groups by limiting their boats to 6 divers. The Pier, the Wall, wrecks, reefs, night dives, boat dives, shore-dives, and full gear rental -- N2theBlue dives more sites on the west and has a second location servicing the Wall and the Salt River Canyon. Want to try scuba diving? ½ day introductory course for beginners gets you in the water the same day, or try guided snorkeling, photography, and PADI dive instruction up to Divemaster level. Voted #1 Dive Shop by The Daily News' people's choice and activity by TripAdvisor, N2theBlue is a full service PADI scuba diving center with rental gear, air fills, and Nitrox. Located 100 steps from the Frederiksted cruise ship pier. Call now to reserve your spot aboard.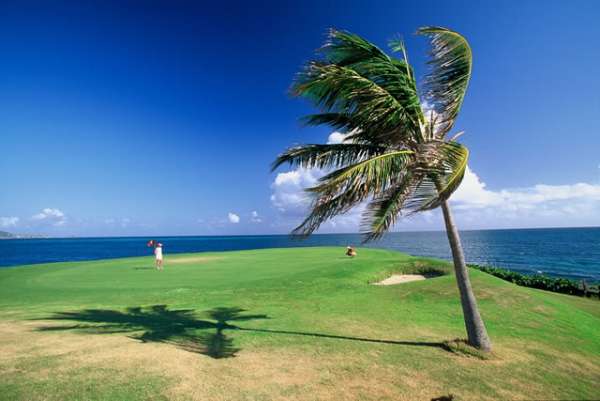 Golfing on St. Croix - Three courses to enjoy!
St. Croix's three golf courses, the most of any of the United States Virgin Islands, offer three distinct opportunities to enjoy the game. Tee off on one of the two 18-hole courses with a white sand beach and turquoise sea in your view or play a quick 9-holes on the West End before you head off to the beach. Courses are: Carambola Golf Club, The Buccaneer Golf Course, and The Reef Golf Course.
Transportation on St. Croix, USVI
Getting to St. Croix, USVI and getting around. Our transportation tips will help make your trip smoother. More good sand advice.
Entry Documents
U.S. citizens do not need a passport to enter but do require proof of citizenship to return back to the states. A passport or birth certificate with photo ID is sufficient. Canadian and European travelers need a valid passport.
Airlines Flying Here
Two ways to get to St. Croix; direct or connecting in St. Thomas (STT) or San Juan (SJU)
Direct:

American Airlines

Delta Airlines
Inter-island/Connecting

Air Sunshine

Cape Air

Seaborne
Airport
Henry E. Rohlsen Airport
Departure Tax
None.
Driving
On the left.
Local Transportation
There are plenty of car rental agencies on the islands. Scooter, motorcycle and bicycle rentals are also an option. Make sure to bring your valid driver's license from home. Uber/Lyft are not on-island.
Roads are paved and generally in good condition, but they can be steep and winding.
St. Croix, USVI Weddings and Honeymoons
Vacationers don't just stay in St. Croix, USVI villas - they come to paradise to get married and celebrate their honeymoons! Apply for a marriage license by writing to:
Territorial Court of the Virgin Islands
Box 70, St. Thomas, U.S.V.I. 00804 or call and request an application at (340) 774-6680.
Applicants must appear before a notary public and have the application notarized. If either or both applicants have been divorced, it is required that a certified copy of the divorce decree be filed along with the application.
Applicants should also attach a letter to the court detailing the following:
- The date of arrival to the island
- The length of their stay
- Desired date of the ceremony
- Posting the Application
Upon receipt of the notarized application at the Territorial Court, an eight-day waiting period is required. During this time, the couple's application is posted for public inspection.
Before a marriage license can be issued, applicants are required to personally appear before the Clerk of the Court, or her designee, to be examined under oath. Some form of identification is required. Note: No physical examination or blood test is required.
All fees must be paid by certified check, money order, or by cash, when paying in person. Marriage Application: $25 Nonrefundable fee. Marriage License: $25
Ceremony performed by a judge, $200 fee, ceremonies done only on Wednesdays.
Court Office Hours: 8 am to 5 pm, Monday through Friday, except holidays and on Saturdays from 10 am to noon, except on Carnival Saturday. Additionally, by pre-arrangement and $150 per couple surcharge, the court will be available on Sundays and holidays between 9:30 am and 10:30 am.
Know Before You Go...® - St. Croix, USVI Travel Tips
Before making their way to St. Croix, USVI villas, vacationers like to know a little bit of helpful information to make them feel more at home during their stay. Take a look at our travel tips to make your time in villas in St. Croix, USVI even more relaxing.
Capital:
Charlotte Amalie
Size:
84 sq. miles; 28 miles long and 7 miles wide
Time:
22:32 pm zone:-4
(GMT/UTC -4)
Official Language:
English.
Tipping and Taxes:
USVI tax: 12.5% Tips/Gratuities
Housekeepers: $10/person per week
Caretakers: $25 and up
Villa Greeter: $25-$50
Restaurants: 10%-20%, based on service
At high-end, fully staffed villas, management may include a 5-10% service charge in your bill. Additional gratuity is completely optional, but most guests add a 5-20% cash tip.
Dress Code:
St. Croix is rather laid back, and is considered casual, but bathing suits, short shorts, no shirt and/or shirts that are unbuttoned are frowned upon while walking around town or in stores. 'Resort casual' is usually as dressy as it gets on St. Croix for men and women, so a sundress for ladies or linen slacks and a polo shirt for men is all you need for a 'nice' dinner.
Topography:
Rolling hills, long stretches of white, sandy beaches, and an array of varied landscape from dry cactus in the east to a lush rain forest in the west.
Telephone:
Area code 304 + 7 digit number