St. Thomas, USVI Guide
Know Before You Go...®
With its busy ports, hundreds of shops and eateries, and numerous activities, it's no wonder that St. Thomas is the most visited of the USVI. If you don't mind crowds, this is a great place to rent a villa and explore another aspect of Caribbean life. Before planning your trip to St. Thomas, use the information on this page and others to learn more about the island and some of the things to see and do there.
Why St. Thomas, USVI?
Vibrant nightlife
Fine dining
Lots of activities on and off the water
St. Thomas, USVI Weather/Climate
History
Archaeological evidence suggests that St. Thomas was once home to natives of the Ciboney tribes, the Taino or Arawak tribes, and the Caribs. Indian habitation in what is today the Virgin Islands was recorded in journals kept by settlers and explorers in the late 1500s. By the 1600s however, the Indian populations had plummeted due to disease brought by Europeans, raids by Spanish settlers from neighboring islands and immigration to other islands of the Caribbean. These indigenous groups no longer exist in the Virgin Islands.
Christopher Columbus is credited with "discovering" St. Thomas during his second voyage to the New World in 1493. He didn't stay long, instead sailing on to Puerto Rico. The island was left unguarded by the Spanish and soon its sheltered bays were called on by ships from other nations, captained by men the Spanish would come to consider pirates. St. Thomas' existence would continue as home to pirates and small settlements long before a European power decided to pursue a permanent settlement.
In 1671 the Danish West India Company received its charter from King Christian V to occupy and take possession of St. Thomas and islands thereabouts that might be uninhabited and suitable for plantations. Part of the charter indicated that the Danish government would supply the company with as many male convicts as necessary for working the plantations and as many women, who were under arrest, as needed. Authorities would soon learn that convicts did not make good workers! The officials in St. Thomas would quickly welcome colonists from other neighboring islands and rely on African slaves for labor.
The first two ships that set sail to settle St. Thomas headed out on August 30, 1671, and arrived three months later on February 26, 1672. The original crew included 116 men engaged by the company and 61 convicts. The first months and years of colonization were costly in terms of lives. Of the first two ships that sailed 89 people died on one ship and 75 died after landing. A third ship with 67 passengers on board sailed to St. Thomas in 1673; 7 died on board and 53 after landing! With these grim numbers the little Danish settlement on St. Thomas grew slowly. Many Dutch settlers seeped in from neighboring islands; consequently from the very beginning Dutch was the dominant language. In 1673 a ship of 103 slaves was sent to St. Thomas, another 24 added in 1675 and 16 in 1678. These were the first of many slaves brought to the island.
The population in 1680 was 156 whites and 175 blacks. The settlement included one fort, one road running through the island and about 50 plantations (of which 46 were occupied). Neighboring islands around St. Thomas, like Buck Island and Water Island, were used as pastures for goats and sheep; intended to feed the settlers on St. Thomas.
After some time passed the government realized that much of St. Thomas' future lay in the development of the area around the natural harbor. Soon Taphus was born! Taphus, meaning beer houses or halls, was the name of what is today Charlotte Amalie. The latter name used in honor of King Christian V's wife. When the governor gave licenses to residents to develop the area around the harbor, taverns quickly sprung up as did seafarers who enjoyed Taphus.
Seafarers… pirates! Under the Esmit Brothers, who served as the 2nd and 3rd governors of St. Thomas, the island gained the image of being a pirates den. This is not surprising considering the Esmit Brothers are said to have illegally and openly traded with freebooters and allowed them to use St. Thomas as a refuge. Romanticized stories of piracy on St. Thomas are common; stories of pirates Blackbeard and Bluebeard are the most well known.
In 1685, after several years of poor management, the Danish West India Company signed a treaty with the Brandenburger Company allowing them to establish a slave trading business on St. Thomas. Despite the slave trade being big business, Bradenburger reports indicate that their prosperity was impeded by difficulties with the Danish hosts and conflicts with the Dutch West India Company.
The early 1700's were the boom period for St. Thomas, sugar became the popular crop and slave trading was on the rise. African slaves were used for labor on the many plantations that dotted the island. Additionally, many traders from other islands came to St. Thomas to buy slaves. Between 1691 and 1715 the population of St. Thomas grew from 389 whites to 547 and 555 blacks to 3042.
In 1717, a small group of planters, slaves and soldiers were sent from St. Thomas to claim St. John. And, on June 13,1733 the Danish West India Company bought St. Croix from France.
In 1754 a proposal recommending that the Danish Government take over the administration of the islands was approved by King Frederik V. The islands became crown colonies. Around this same time St. Croix was growing rapidly, its population almost doubling St. Thomas' and St. John's combined. The capital was moved from St. Thomas to Christiansted, St. Croix. While St. Croix developed a typical plantation economy, St. Thomas' economy shifted to trade.
The English seized the Danish islands in 1801 for about a year and again from 1807 to 1815. While the first takeover left little lasting effect the second caused trade on St. Thomas to stagnate and left some planters impoverished.
St. Thomas was made a free port in 1815 and in the years following it became a shipping center and distributing point for the West Indies. Charlotte Amalie flourished commercially. Large and small importing houses, belonging to English, French, German, Italian, American, Spanish, Sephardim and Danish owners, were thriving. A large part of all West Indian trade was channeled through the harbor. Of the 14,000 inhabitants, many of them free, only about 2,500 (mostly slaves) gained their living on plantations. A substantial segment of free Blacks worked as clerks, shop keepers and artisans. The population and atmosphere was very cosmopolitan, particularly in comparison to its sister island of St. Croix where plantation life was the norm. It is on St. Croix that a slave revolt in 1848 prompted the abolition of slavery in the Danish West Indies.
With the increase of steamships in the 1840's St. Thomas continued forward by becoming a coaling station for ships running between South and North America. Shipping lines made Charlotte Amalie their headquarters. Later advancements in steam and political climate made it possible for Spanish and English islands to import directly from producers, therefore skipping St. Thomas. By the 1860's the end of prosperity loomed in the horizon. Coaling however, would continue until about 1935. Coaling ships was an occupation largely filled by women.
In the late 1800s through early 1900s, several major natural disasters including hurricanes, fires and a tsunami left Charlotte Amalie wanting for major re-building. Years passed before the old warehouses that once stored goods for trade would be rebuilt to house the fancy boutiques and stores that line the streets today. On St. Croix, plantations were suffering with labor issues and low market prices on sugar. The Danish West Indies became more and more dependent on Denmark, and its treasury, during these difficult times.
Negotiations between the United States and Denmark were initiated on several occasions between 1865 and 1917 when the final deal was struck and the United States bought the Danish West Indies for $25 million.
The United States flag was hoisted on the three ''Virgin Islands of America' on the 31st of March 1917. The islands remained under US Navy Rule until 1931; during that time several major public works and social reform projects were undertaken. Governors were appointed from 1931 until 1969 when the first elected governor took office. The capital of the island group is Charlotte Amalie, on St. Thomas.
As air and sea travel increased in the 1950s prosperity returned to Charlotte Amalie and St. Thomas. Tourism continued to grow in the years thereafter. The island saw an increase in population as immigrants from other Caribbean islands came in hopes of finding work in the developing tourism industry.
St. Thomas moved into the 21st century maintaining its prominence as one of the Caribbean's top vacation destinations and Charlotte Amalie as a favorite cruise ship port of call.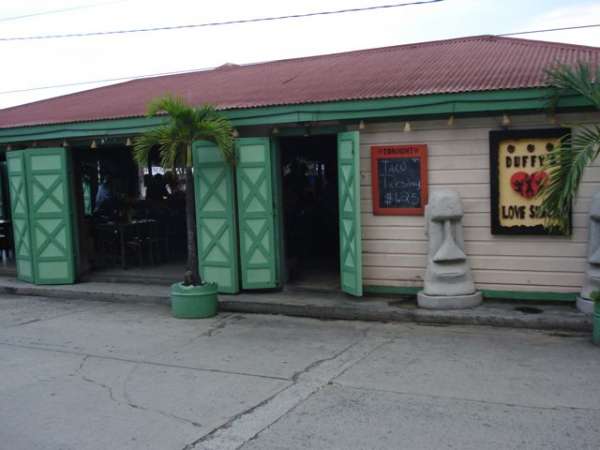 Thursday night at Duffy's is so much fun! Maine lobsters are flown in the night before & cooked to order.
Duffy's Love Shack originated in the alleyways of Charlotte Amalie in St. Thomas in 1995. A small thatch roof lean-to in Drakes Passage was the birthplace of the first Volcano! In September of 1995 it became the unwilling home to a 40' sailboat when Hurricane Marilyn barreled across the island. It was rebuilt in its current location in Red Hook, on the east end of St. Thomas and is dubbed the coolest parking lot bar in the Caribbean.Nothing beats a Saturday night at Duffy's. After the shops in Red Hook close and the car park empties, the whole place turns into a Caribbean block party.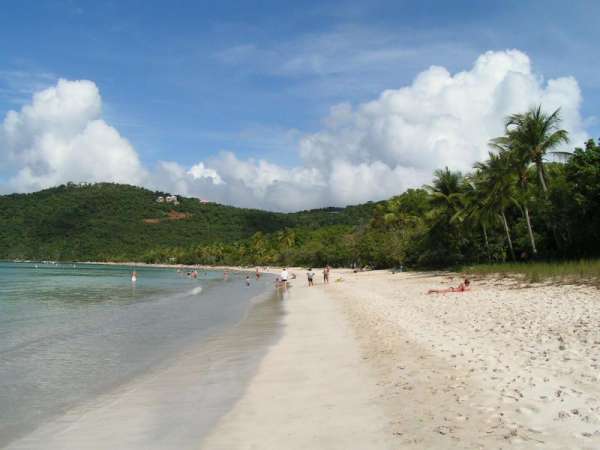 Magens Bay with its clear water, soft sand, and tall palm trees is considered to be one of the most beautiful beaches in the world.
Magen's Bay is a favorite in St. Thomas. Three miles north of the capital and lying between two mountains, located at the end of tree-shaded Route 35 on St. Thomas' north shore, boasts pristine turquoise water and white sand. Magen's Bay has been noted as one of the most beautiful in the world. Great for swimming and convenient, too -- parking, lifeguards, equipment rental, restaurants, bars, freshwater showers. Gates open daily from 6 am to 6 pm. Admission is $1 per person and $1 per car. Deeded to the island as a public park, this beach has made many of the world's "most beautiful" lists. It's as breathtaking when seen from the perspective of the road above, as from the shore or from the warm and clear waters. You may see couples getting married at the shoreline as well as family picnickers around a table. One inside tip for those seeking seclusion is to make your way to the western end of the beach. It is less crowded and offers some of the better snorkeling opportunities at Magens Bay. Of course, to take in the full beauty of this place, step back and watch how the perfect waters are framed by green mountainous peaks on the east and west horizons.
The steps lead high to a hill above Charlotte Amalie and the stone remains of an old fort, now part of the Inn at Blackbeard's Castle complex. Its a bit of a treck up the hill, but well worth it for the views.
These steps were built in the 1700s, by the Danes. Historians believe these steps, along with many others that rise from the Charlotte Amalie harbor, were actually a result of bad planning on the part of Danish engineers who had never been to St. Thomas. The bricks used to build the steps were brought from Denmark in the hulls of sailing ships. (The 99 steps are in truth 103 steps.) At the top of the steps sits an old Fort (now part of the Inn at Blackbeard's). The view is the reason it was built there, so Danish soldiers could keep an eye out for enemy ships and protect Fort Christian from attacks. It is a National Historic Site and considered to be one of the oldest buildings on St. Thomas. The name Blackbeard refers to Edward Teach, a pirate who is said to have frequented the islands and spent quite a bit of time around the tower.
Transportation on St. Thomas, USVI
Getting to St. Thomas, USVI and getting around. Our transportation tips will help make your trip smoother. More good sand advice.
Entry Documents
U.S. citizens do not need a passport to enter but do require proof of citizenship to return back to the states. A passport or birth certificate with photo ID is sufficient. Canadian and European travelers need a valid passport.
Airlines Flying Here
American Airlines, Continental Airlines, Delta, United, US Airways
Regional airline, Cape Air
Airport
Cyril E. King Airport; flights from the U.S. are direct to St. Thomas. Transfers to St. Croix are via air or boat and St. John via ferry.
Departure Tax
None.
Driving
On the left.
St. Thomas, USVI Weddings and Honeymoons
Vacationers don't just stay in St. Thomas, USVI villas - they come to paradise to get married and celebrate their honeymoons! Apply for a marriage license by writing to:
Territorial Court of the Virgin Islands
Box 70, St. Thomas, U.S.V.I. 00804 or call and request an application at (340) 774-6680.
Applicants must appear before a notary public and have the application notarized. If either or both applicants have been divorced, it is required that a certified copy of the divorce decree be filed along with the application.
Applicants should also attach a letter to the court detailing the following:
- The date of arrival to the island
- The length of their stay
- Desired date of the ceremony
- Posting the Application
Upon receipt of the notarized application at the Territorial Court, an eight-day waiting period is required. During this time, the couple's application is posted for public inspection.
Before a marriage license can be issued, applicants are required to personally appear before the Clerk of the Court, or her designee, to be examined under oath. Some form of identification is required. Note: No physical examination or blood test is required.
All fees must be paid by certified check, money order, or by cash, when paying in person. Marriage Application: $25 Nonrefundable fee. Marriage License: $25
Ceremony performed by a judge, $200 fee, ceremonies done only on Wednesdays.
Court Office Hours: 8 am to 5 pm, Monday through Friday, except holidays and on Saturdays from 10 am to noon, except on Carnival Saturday. Additionally, by pre-arrangement and $150 per couple surcharge, the court will be available on Sundays and holidays between 9:30 am and 10:30 am.
Know Before You Go...® - St. Thomas, USVI Travel Tips
Before making their way to St. Thomas, USVI villas, vacationers like to know a little bit of helpful information to make them feel more at home during their stay. Take a look at our travel tips to make your time in villas in St. Thomas, USVI even more relaxing.
Capital:
Charlotte Amalie
Population:
51181 (Census 2000)
Time:
00:22 am zone:-4
(GMT/UTC -4)
Official Language:
English.
Telephone:
Local area code is 340.