St. Barts Guide
Know Before You Go...®
Even as one of the smallest islands in the Caribbean, St. Barts has managed to make a big name for itself. With bragging rights to some of the best and cleanest beaches, the finest restaurants, and the trendiest shops, this is an island worth visiting. If you've decided to rent a villa or book a hotel room in St. Barts, use the information on this page to help you plan an unforgettable vacation.
Why St. Barts?
Shopping and fine cuisine!
Landing at the airport.
La Rivage restaurant at St. Barts Beach Hotel. A local favorite.
Windsurfing, sailing and yachting.
The villages of Corossol and Colombier where women dress as they did centuries ago.
St. Barts Weather/Climate
Average Temperatures
September
87.6° F
74.7° F
History
When Christopher Columbus sailed past this island in 1493, he named the place for his brother, Bartholomew. When the French took over, the island eventually became ritzy, glitzy St Bartholemy. The Columbian name finally evolved into St Barth in French and Saint Barts in English.
The island never went into the plantation business, so there were never any slaves other than a few domestic ones. Plantation-free, extremely hilly St Barts has valleys and beaches that are among the most unspoiled and gorgeous in the Caribbean. From the island's highest peak, about 930 ft, it is possible to see Sint Eustatius and St Kitts islands.
On July 1, 1784, the King of France, along with King Gustav III of Sweden, traded St Barts for a Swedish warehouse and Baltic Sea trading rights. Thus, St Barts became Sweden's only Caribbean colony. Today, little remains of Swedish rule - other than a waterfront warehouse, several Swedish street names, and the Swedish royal name "Gustavia" for the island's commercial center.
Sweden's monarch made his Caribbean colony a duty-free port. Almost ever since, St Barts and its waterfront capital, Gustavia, have prospered as a shopper's haven. However, trade dropped off in 1847 when Sweden's king freed the slaves, what few there were. Since there were no plantations, most of the freed slaves left to find work in the US Virgin Islands.
In 1878, King Oscar II of Sweden ordered a referendum on sovereignty. Islanders voted to return as part of France, but only if the duty-free status could remain in place.
News and Notable
The Kardashian-Jenner Family, Nicole Ritchie, Alessandra Ambrosio and Miranda Kerr, Derek Jeter, Rachel Zoe, Beyonce and Jay-Z, and Gwen Stefani.
Discover St. Barth's by Motor Boat
Marine Services can help you discover St. Barths' fishing, sailing, snorkeling, diving, island hopping and jet skiing. They offer all of this, plus several other tours. Divers love exploring the Kayali shipwreck, and anglers always come home with plenty of stories to tell after a day with Marine Services. Big game fishermen catch bonita, dorado, and barracuda. Or maybe just a leisurely tour around the island is more your speed. The gentle rocking of the boat makes for the perfect sun bathe, or find a shaded spot for a relaxing on-board nap. When you wake, refreshing beverages and a light lunch will be waiting. Quai du Yacht Club, Gustavia Open Daily: 8:30 am to 1 pm; 3 pm to 6 pm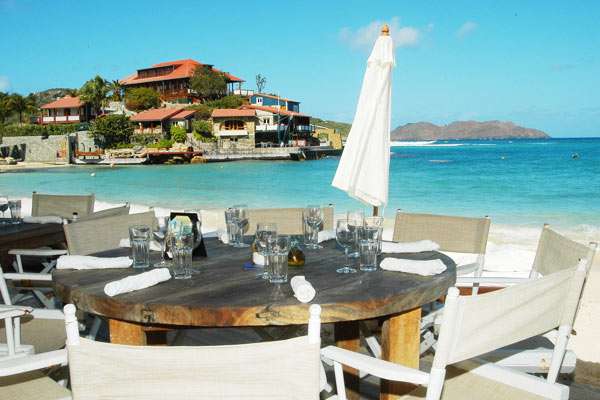 Mix and Mingle with the Most Glamorous People Across the Globe at Nikki Beach
Locals, celebrities, and yacht-hopping billionaires flock to Nikki Beach - the hottest beach club on St. Barts. Jetsetters enjoy non-stop, round-the-clock hip hop while lounging on bamboo beds or in one of Nikki's trademark teepees. This exotic hot spot serves delicious entrees at lunch and dinner, the most refreshing cocktails and it's really the best people watching anywhere. Plage de St. Jean FW1 97133 St. Barths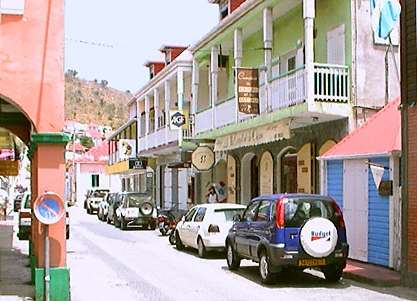 Gustavia -- A Shopper's Playground
The island of St. Barts is duty-free but you'll find the most stores and best shopping in Gustavia. Billionaire yachts anchor here to check out the latest trends from French and Italian designers, which may not have made it to the states yet. The shopping pit-stop includes merchants such as Dior, Louis Vuitton, Tod's, and Bulgari and a bunch of luxury boutiques. St. Bart's Gustavia is a sure hit for fashionistas traveling from around the globe.
Transportation on St. Barts
Getting to St. Barts and getting around. Our transportation tips will help make your trip smoother. More good sand advice.
Entry Documents
Passport and a return ticket.
Airlines Flying Here
Air Antilles Express

Air France
Airport
Gustavia III Airport
Departure Tax
$15 payable in cash, dollars or Euros at the airport
Driving
On the right - a valid foreign or international license is required.
Local Transportation
Taxis, rental cars.
St. Barts Weddings and Honeymoons
Vacationers don't just stay in St. Barts villas - they come to paradise to get married and celebrate their honeymoons! In order to get married on St. Barth, the couple needs to fill out a document and submit it to the city hall in person at least 30 days before the wedding. The couple must also produce birth certificates, passports, proof of residence, background information about the couple's parents and the witnesses, a certificate of law issued by the Consulate or Embassy concerning marital status and a Certificate of matrimonial capacity. If needed divorce and/ or death certificate must be furnished. The island has several churches, including Catholic and Anglican, where couples can arrange for a religious ceremony after filling out the appropriate paperwork.
Know Before You Go...® - St. Barts Travel Tips
Before making their way to St. Barts villas, vacationers like to know a little bit of helpful information to make them feel more at home during their stay. Take a look at our travel tips to make your time in villas in St. Barts even more relaxing.
Time:
09:48 am zone:-4
(GMT/UTC -4)
Official Language:
French; English is widely spoken.
Currency:
Euro - U.S. dollars are widely accepted and prices are often listed in both currencies.
Tipping and Taxes:
Restaurants will automatically add a 15% service charge, and taxi drivers expect a tip of 10% of the fare.
Topography:
St. Barts' topography of hills and valleys adds to its charm. Each valley is distinctive, with its own architecture and landscape. In all, there are a dozen villages and one major town, Gustavia. They're all a short distance from each other by foot and/ o
Telephone:
Local area code is 590. From U.S. dial 011-590 plus the local number.