St. Barts Guide
Know Before You Go...®
Even as one of the smallest islands in the Caribbean, St. Barts has managed to make a big name for itself. With bragging rights to some of the best and cleanest beaches, the finest restaurants, and the trendiest shops, this is an island worth visiting. If you've decided to rent a villa or book a hotel room in St. Barts, use the information on this page to help you plan an unforgettable vacation.
Why St. Barts?
Shopping and fine cuisine!
Landing at the airport.
La Rivage restaurant at St. Barts Beach Hotel. A local favorite.
Windsurfing, sailing and yachting.
The villages of Corossol and Colombier where women dress as they did centuries ago.
St. Barts Weather/Climate
Average Temperatures
September
87.6° F
74.7° F
History
When Christopher Columbus sailed past this island in 1493, he named the place for his brother, Bartholomew. When the French took over, the island eventually became ritzy, glitzy St Bartholemy. The Columbian name finally evolved into St Barth in French and Saint Barts in English.
The island never went into the plantation business, so there were never any slaves other than a few domestic ones. Plantation-free, extremely hilly St Barts has valleys and beaches that are among the most unspoiled and gorgeous in the Caribbean. From the island's highest peak, about 930 ft, it is possible to see Sint Eustatius and St Kitts islands.
On July 1, 1784, the King of France, along with King Gustav III of Sweden, traded St Barts for a Swedish warehouse and Baltic Sea trading rights. Thus, St Barts became Sweden's only Caribbean colony. Today, little remains of Swedish rule - other than a waterfront warehouse, several Swedish street names, and the Swedish royal name "Gustavia" for the island's commercial center.
Sweden's monarch made his Caribbean colony a duty-free port. Almost ever since, St Barts and its waterfront capital, Gustavia, have prospered as a shopper's haven. However, trade dropped off in 1847 when Sweden's king freed the slaves, what few there were. Since there were no plantations, most of the freed slaves left to find work in the US Virgin Islands.
In 1878, King Oscar II of Sweden ordered a referendum on sovereignty. Islanders voted to return as part of France, but only if the duty-free status could remain in place.
News and Notable
Frequent visitors include the Kardashian-Jenner family, Nicole Ritchie, Alessandra Ambrosio and Miranda Kerr, Derek Jeter, Rachel Zoe, Beyonce and Jay-Z, and Gwen Stefani, as well as Simon Cowell and Paul McCartney.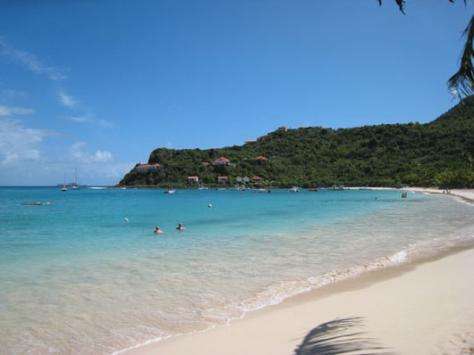 Crystal Blue Waters at St. Jean Beach
St. Barts' 14 stunning beaches draw thousands of travels to this tiny island every year, but St. Jean is where we soak up the sun. This cove is actually 2 beaches split by Eden Rock where you'll find restaurants, hotels, bars, shops and water sports. This northern bay feels like the French Riviera. Relax and enjoy the crystal blue water. It's never very crowded, even during the winter months. Take a stroll down the coast to the airport runway. It's fun to watch, and photograph, take-offs and landings. Nudism is prohibited, but topless sun-bathing is okay.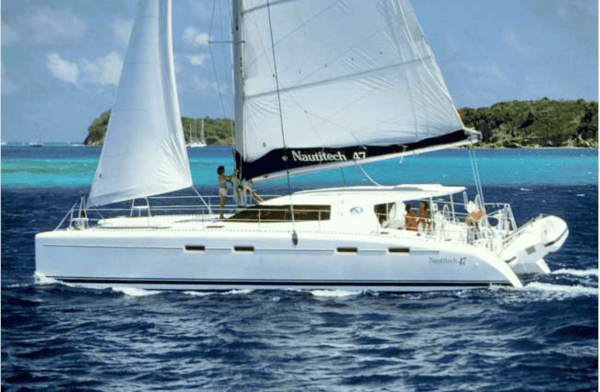 Discover St. Barth's by Motor Boat
Jicky's has a nice variety of vessels to choose from to spend your day out on the water. From the 47' catamaran to the 55' high-tech Vandutch there is something for everyone!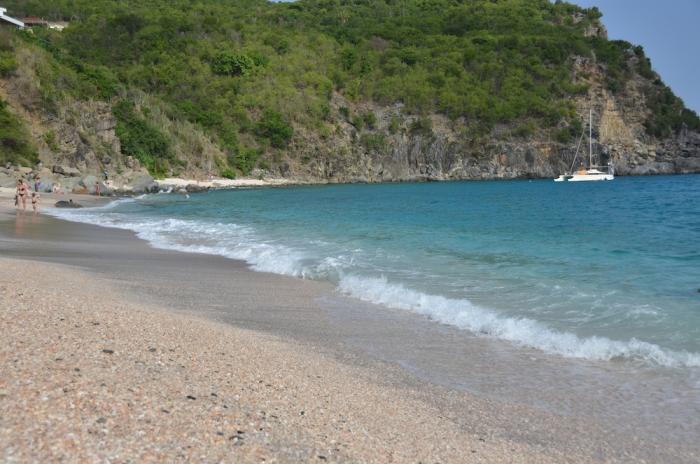 Watching the sunset at Shell Beach
Within walking distance of Gustavia, Shell Beach got its name for the blanket of olive shells covering the sand. Hurricanes have washed most of the shells away but you can still find a good array. This beach is a fantastic place to watch the sunset with the islands of Saba and St. Eustatius on the horizon. French tennis champion, Yanich Noah, and St. Barth's legend, Boubou, own Do Brasil on Shell Beach. This three-story restaurant is tucked into the cliffs and it's the perfect place to grab cold drinks, salads and sandwiches.
Transportation on St. Barts
Getting to St. Barts and getting around. Our transportation tips will help make your trip smoother. More good sand advice.
Entry Documents
Passport and a return ticket. Your passport's expiration date must be at least 6 months after your scheduled return date.
Airlines Flying Here
Air Antilles Express

Air France

St. Barts Commuter

Tradewind

Winair

The St. Barts airport can only accommodate smaller planes, with flights connecting from St. Maarten, San Juan or St. Thomas. Commercial jets require a longer runway and cannot land on St. Barts.
Airport
Gustavia III Airport.
Departure Tax
$15 payable at the airport in cash, dollars or Euros.
Driving
On the right - a valid foreign or international license is required.
Local Transportation
Taxis, rental cars. No Uber/Lyft on island.
St. Barts Weddings and Honeymoons
Vacationers don't just stay in St. Barts villas - they come to paradise to get married and celebrate their honeymoons! In order to get married on St. Barth, the couple needs to fill out a document and submit it to the city hall in person at least 30 days before the wedding. The couple must also produce birth certificates, passports, proof of residence, background information about the couple's parents and the witnesses, a certificate of law issued by the Consulate or Embassy concerning marital status and a Certificate of matrimonial capacity. If needed divorce and/ or death certificate must be furnished. The island has several churches, including Catholic and Anglican, where couples can arrange for a religious ceremony after filling out the appropriate paperwork.
Know Before You Go...® - St. Barts Travel Tips
Before making their way to St. Barts villas, vacationers like to know a little bit of helpful information to make them feel more at home during their stay. Take a look at our travel tips to make your time in villas in St. Barts even more relaxing.
Population:
approximately 10,000
Time:
08:14 am zone:-4
(GMT/UTC -4)
Official Language:
French; English is widely spoken.
Currency:
Euros (€) - U.S. dollars are widely accepted and prices are often listed in both currencies. Major credit cards are widely accepted. Euros are easier, however.
Tipping and Taxes:
Restaurants will automatically add a 15% service charge, and taxi drivers expect a tip of 10% of the fare.
Dress Code:
The dress code is casually smart, meaning that you'll want to cover up when not at the beach. During the day, casual wear is just fine, as many visitors often dress in shorts and T-shirts. In the evening men usually wear slacks and a sport shirt (no jackets or ties required) and women, sundresses or resort wear.
Topography:
St. Barts' topography of hills and valleys adds to its charm. Each valley is distinctive, with its own architecture and landscape. In all, there are a dozen villages and one major town, Gustavia. They're all a short distance from each other by foot, bike
Telephone:
Local area code is 590. From U.S. dial 011-590 plus the local number.