St. Kitts Guide
Know Before You Go...®
St. Kitts is an island that will have something for everyone in your party. The kids will enjoy hiking through the rainforests trying to spot the evasive African Green Vervet monkeys, making sandcastles on the black and white sand beaches, or swimming and diving in the crystal clear waters of the Caribbean Sea. The adults will have their hands full trying to decide between scuba diving, hiking the rocky crags of Mount Liamuiga, and hanging out in the casinos. There will be tough decisions to make about accommodations, too. The island has a wide selection of villa rentals, hotels, resorts, and bed and breakfast properties from which to choose. No matter what your tastes or pocketbook, you're sure to find just what you're looking for on St. Kitts.
Why St. Kitts?
St. Kitts is the smallest nation in the Americas.
The first British and French colonies were established in St. Kitts in 1623.
St. Kitts is home to the only remaining British fort in the Caribbean.
St. Kitts is the birthplace of Alexander Hamilton, one of the Founding Fathers of the United States.
St. Kitts boasts the world's first eco-friendly cruise port.
St. Kitts Weather/Climate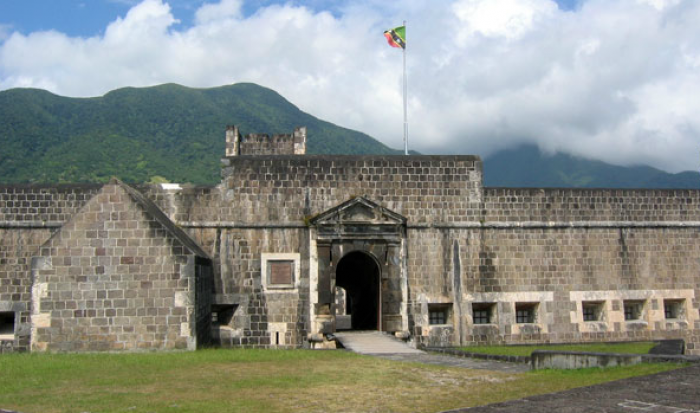 Take your camera to Brimstone Hill Fortress, you won't want to miss this photo op!
The Brimstone Hill Fortress is a UNESCO World Heritage with a visitor centre, museum and gift shop. Explore the 300- year- old Fortress, perched on a 40-acre hill-top 750 feet above sea level. Brimstone Hill Fortress National Park is full of history and boasting attractive panoramic views of forested mountains, cultivated fields, the historical township of Sandy Point, and neighbouring islands across the Caribbean Sea. Residents - $5.00 E.C - Visitors - $8.00 U.S Children - Half Price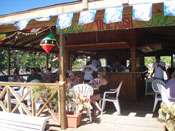 Don't miss the Reggae Beach Bar & Grill for a day full of food, fun and festivity.
Located on Cockleshell Beach on the South East Peninsula of St. Kitts, Reggae Beach Bar & Grill is a popular spot for not only enjoying fresh grilled seafood, ribs, and tropical frozen concoctions but also taking in a game of beach volleyball, snorkeling on the protected reef or ocean kayaking. And how could I forget, Wilbur, the bar's mascot pig, is around for additional entertainment and photo ops.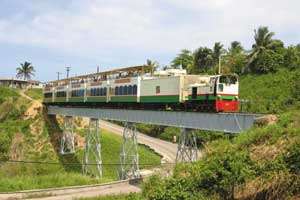 Hop on the Sugar Train and tour St. Kitts while listening to folk songs and feasting on sugar cakes!
An afternoon trip on the Sugar Train, as it's better known, is a 30 mile tour that includes a 17 and a half mile scenic train ride and an 11 mile bus tour. The 3 hour tour circles the island's coastline while a conductor delivers a unique perspective on the island's culture, people, views and history.
Transportation on St. Kitts
Getting to St. Kitts and getting around. Our transportation tips will help make your trip smoother. More good sand advice.
Entry Documents
Proof of citizenship and an on-going ticket
Airport
Robert L. Bradshaw Airport.
Departure Tax
US$10
Driving
On the left - a temporary driver's license is required costing around US$12 available from the Police Department.
St. Kitts Weddings and Honeymoons
Vacationers don't just stay in St. Kitts villas - they come to paradise to get married and celebrate their honeymoons! Proper documents must be presented for marriage approvalCost: Around US$80Documents Required: Passports or birth certificates; For couples wishing to be married by a minister on St. Kitts, a letter from the couples stateside minister must be presented v
Know Before You Go...® - St. Kitts Travel Tips
Before making their way to St. Kitts villas, vacationers like to know a little bit of helpful information to make them feel more at home during their stay. Take a look at our travel tips to make your time in villas in St. Kitts even more relaxing.
Size:
23 miles long; 68 square miles.
Time:
12:25 pm zone:-4
(GMT/UTC -4)
Official Language:
English
Currency:
Eastern Caribbean Dollar (EC) - U.S. dollars accepted.
Telephone:
Local area code is 869.