St. Martin Guide
Know Before You Go...®
When you come to St. Martin, you have a unique mix of laid-back Caribbean lifestyle and exciting, fast-paced opportunities to party. That's because the island is actually divided into two parts, with the French side enjoying a slower pace and the Dutch side offering up action. From a villa here, you can enjoy them both, and the information contained on these pages will help you plan a trip to St. Martin that will give you the best of both worlds.
Why St. Martin?
The views of Paradise Peak
Exploring Loterie Farms
Marigot for shopping and French cuisine
Orient Beach, most beautiful beach on the island
Windsurfing
Cupecoy Beach, a local favorite
Duty-free shopping in Philipsburg
Casino action and nightlife
St. Martin Weather/Climate
History
Before Columbus arrived here during his second voyage in 1493, the island had already been inhabited for some one thousand years.
The Arawak Indians settled on the island around 800 AD. This tribe arrived from the Orinoco river basin of South America and migrated up the chain of Caribbean islands. They named the island "Sualouiga" or " Land of Salt " for the abundant salt-pans and salty water that were found in abundance. Artifacts from the Arawak civilization can be viewed at the St. Martin Museum.
The few fresh water springs around Paradise Peak, Mount William, Billy Folly, and in the Lowlands could only support a small population, and this is where they mainly tended to congregate. You can find a number of artifacts from this period preserved in the St. Martin Museum: On the Trail of the Arawaks.
Centuries following, the aggressive, cannibal, Amazonian Carib Indians settled on the island and named the island "Soualiga" or "Salt Island" after the island's most prevalent mineral resource. This tribe migrated from North America and is what the entire Caribbean is so named after.
According to island legend, on November 11, 1493, Christopher Columbus claimed the island (but did not set foot) for Spain on his second voyage, then proclaiming it St. Maarten from the religious day of St. Martin of Tours. To this day, St. Maarten celebrates this day as St. Martin/St. Maarten's Day.
The Dutch settled on the island in 1631 to set a post between their other two territories in Brazil and Nieue Amsterdam ( New York ). The Spanish overthrew the Dutch government, leaving. However, the Dutch did not heed in the reacquisition of this island and unsuccessfully raided the island for the next 15 years. After a notably hard-hitting victory to remain on the island, the Spanish Commander, asked permission to abandon the island and in 1647, the King of Spain granted him permission.
According to legend, some Dutch and French were left behind by the Spanish and established small villages throughout the island. The Dutch and French joined forces to keep the Spanish from settling on the island. This was finally achieved in 1644 when the Spanish abandoned their claims to the Eastern Caribbean.
Today, tourism is the island's primary source of income. Princess Juliana Airport was established in 1943. The first hotel opened on the island in 1947, the Sea View. The Dutch started promoting tourism in the 1950s while the French didn't publicize until the 1970s.
St.Martin (French) is a commune of Guadeloupe, which is an overseas department of France. Islanders are entitled to vote in French elections.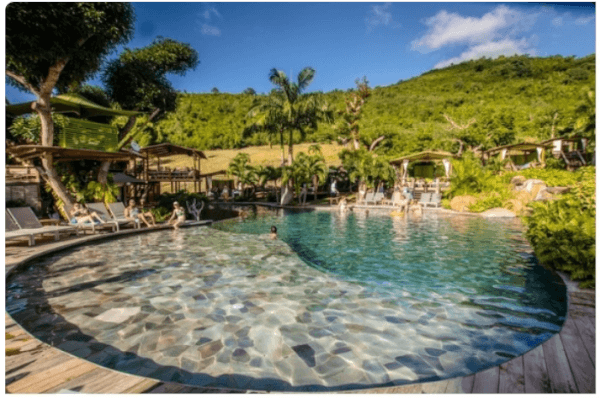 Zip over treetops at loterie farm's private nature reserve
Located near the foot of Paradise Peak, Loterie Farm's private nature reserve offers days of fun activities the whole family will enjoy including horseback riding, hiking, eco-tours, mountain climbing, yoga and much more. This peaceful 135-acre preserve also has a kids' area with suspended bridges and rope swings. Our favorite is "The Fly Zone". Get a birds-eye-view of the forest canopy and soar above tree tops on the adrenaline-pumping zip-line. Loterie Farm hiking trails travel 1400 feet to the top of St. Martin's highest point. You can't beat the panoramic view. If you're hungry, relax at the Hidden Forest Café. Bon Apetit magazine raved about this tree house-like eatery in February 2007. Or you can enjoy tapas and tropical drinks at The Tree Lounge. Both use ultra-fresh ingredients found on the island and garnished with flowers picked right inside the nature reserve.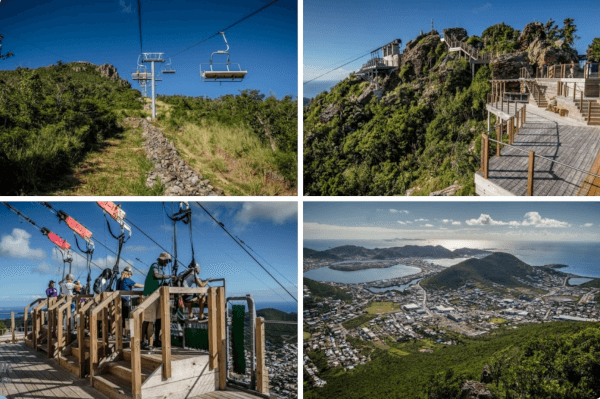 Speed down the world's steepest zip line!
The Flying Dutchman is found in the Rockland Estate eco-adventure park operated by Rainforest Adventures, which also has a restaurant, the Schooner inner tube track, and equally-exhilarating canopy tour on site. To access the zip line, guests take the Sky Explorer chairlift all the way up Sentry Hill, and arrive to find a series of wooden walkways leading to what are hands-down the best views on the entire island. The panoramic vantage points look down over all of St Maarten and St. Martin, and even out to neighbouring islands like Anguilla, Saba and St. Barths. Then, up to four riders at a time are strapped into harnesses attached to the line, and suddenly find themselves zooming straight back down the hill!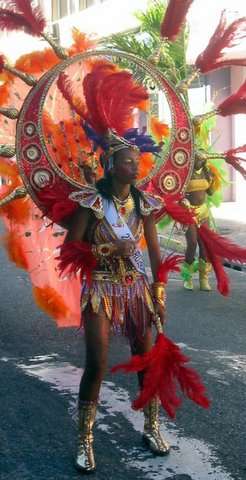 Party in the Streets of Marigot at Carnival
Carnival is celebrated in St. Martin's capital city of Marigot two weeks prior to Lent. Similar to other Carnival celebrations around the world, Saint Martin's features exotic costumes, colorful street parades, festive music, and lots of food. This is an ideal time to sample Caribbean cuisine and experience St. Martin's unique culture.
Transportation on St. Martin
Getting to St. Martin and getting around. Our transportation tips will help make your trip smoother. More good sand advice.
Entry Documents
Entry requirements for Americans: US citizens need a valid passport, or a government-issued photo ID, such as a driver's license, and proof of citizenship, such as a birth certificate, to enter either St Maarten or St Martin; a return ticket or proof of onward travel is also required. No visa is necessary for a stay of up to three months.
Entry requirements for UK nationals: British citizens require a passport valid for the period of intended stay. A visa is not required for stays of up to three months. A return ticket or proof of onward travel is required. This applies to both Dutch and French national sectors of the island.
Entry requirements for Canadians: Canadian citizens need a valid passport or a government-issued photo ID, such as a driver's license, as well as proof of citizenship, such as a birth certificate, to enter either St Maarten or St Martin, and a return ticket or proof of onward travel is required. No visa is required for a stay of up to 14 days.
Airlines Flying Here
- Air France
- American Airlines
- Delta
- Frontier
- jetBlue
- KLM
- Spirit Airlines
- WestJet - Air Caraibes
- Anguilla Air Services
- Caribbean Airlines
- French Bee
- Liat
- Winair
Airport
Princess Juliana International Airport, St. Maarten
Departure Tax
There is a US$30.00 per person. Payment is required before boarding and they will only accept cash or traveler's checks. Some airlines have already incorporated the departure tax into the price of the ticket. If you are not sure, check with your airline.
Driving
On the right. A valid foreign or international driver's license is required for car rentals, but a temporary St. Martin/St. Maarten driver's license is not issued.
In roundabouts, vehicles in the center have the right of way.

It is illegal to turn right on a red light.

Not all roads on the island have signs so be particularly sensitive to landmarks.

Always check your side mirror before making a turn. Scooters/motorcycles have a tendency to pass by driving down the middle of the road. While it is not legal in theory, it can be rather crazy if you are not aware!

Children under 12 must ride in the back seat.
Local Transportation
Roads are generally in good condition. Taxi's are available within Phillipsburg and Marigot, but generally do not know where villas are located. Recommend working with your villa specialist or manager to make private taxi arrangements. Uber/Lyft are not on-island.
St. Martin Weddings and Honeymoons
Vacationers don't just stay in St. Martin villas - they come to paradise to get married and celebrate their honeymoons! Dutch - Passports, birth certificates and two photo ID's. If necessary proof of divorce and/or death certificates, names of parents, maiden names of mothers, place and dates of birth. Requests must be made 14 days in advance, and divorced women may not marry until 306 days have passed since getting their divorce finalized.
French - Passports, birth certificate; surname, names, date and place of birth of the father and mother of the future spouses; surname, names, date and place of birth of the witnesses as well as their addresses and professions. A letter that has been signed and dated by the future spouses and addressed to the President of the Territorial Council requesting that he apply article 58 of the Law n 2009-594 of May 27, 2009 on a specific date, which should be indicated in the letter. Because there is a minimum of one month wait period before getting married on St. Martin, most couples choose to marry on the St. Maarten side of the island.
See our favorite villas for weddings.
Know Before You Go...® - St. Martin Travel Tips
Before making their way to St. Martin villas, vacationers like to know a little bit of helpful information to make them feel more at home during their stay. Take a look at our travel tips to make your time in villas in St. Martin even more relaxing.
Capital:
Marigot (French), Philipsburg (Dutch)
Population:
St. Maarten: 41,000 - St. Martin: 36,000
Size:
37 square miles total; 16 Dutch and 21 French.
Electric Current:
110/220
Time:
20:31 pm zone:-4
(GMT/UTC -4)
Official Language:
French and Dutch respectively are the official languages, but English is common.
Currency:
Dutch - Netherlands Antillean florin, U.S. dollars widely accepted. French - The euro, but U.S. dollars are widely accepted.
Tipping and Taxes:
Before you leave a tip, check the bottom of the menu or your bill as some restaurants automatically add on a 15% service charge/gratuity, however, you may wish to add an additional 5% for excellent service. Please note, there is nothing called 'tipping' in France. It is called "service."
Dress Code:
Daytime attire is casual, but keep bathing suits and bikinis for the beach. Light cottons, linens and a good sun hat are your best options. In the evening, the island's finer restaurants and nightlife spots gives you the opportunity to wear something a little more special with a tropical flair.
Topography:
French St. Martin is hilly where some of the hills are sparsely wooded with a few areas of heavy vegetation. Dutch St. Maarten is more arid and flat. There are many bays and creeks along the shores of the island and a few salt ponds.
Telephone:
St. Maarten is Dutch - Local numbers have seven digits. For directory assistance dial 150. To make a local call within St Maarten you need only dial the seven-digit number. St. Martin is French - 590 590 plus the six digit number for landlines; 590 690 for cell phones Calls between the Dutch and French sides of the island are considered international calls.