St. Martin Guide
Know Before You Go...®
When you come to St. Martin, you have a unique mix of laid-back Caribbean lifestyle and exciting, fast-paced opportunities to party. That's because the island is actually divided into two parts, with the French side enjoying a slower pace and the Dutch side offering up action. From a villa here, you can enjoy them both, and the information contained on these pages will help you plan a trip to St. Martin that will give you the best of both worlds.
Why St. Martin?
The views of Paradise Peak
Exploring Loterie Farms
Marigot for shopping and French cuisine
Orient Beach, most beautiful beach on the island
Windsurfing
Cupecoy Beach, a local favorite
Duty-free shopping in Philipsburg
Casino action and nightlife
St. Martin Weather/Climate
History
Before Columbus arrived here during his second voyage in 1493, the island had already been inhabited for some one thousand years.
The Arawak Indians settled on the island around 800 AD. This tribe arrived from the Orinoco river basin of South America and migrated up the chain of Caribbean islands. They named the island "Sualouiga" or " Land of Salt " for the abundant salt-pans and salty water that were found in abundance. Artifacts from the Arawak civilization can be viewed at the St. Martin Museum.
The few fresh water springs around Paradise Peak, Mount William, Billy Folly, and in the Lowlands could only support a small population, and this is where they mainly tended to congregate. You can find a number of artifacts from this period preserved in the St. Martin Museum: On the Trail of the Arawaks.
Centuries following, the aggressive, cannibal, Amazonian Carib Indians settled on the island and named the island "Soualiga" or "Salt Island" after the island's most prevalent mineral resource. This tribe migrated from North America and is what the entire Caribbean is so named after.
According to island legend, on November 11, 1493, Christopher Columbus claimed the island (but did not set foot) for Spain on his second voyage, then proclaiming it St. Maarten from the religious day of St. Martin of Tours. To this day, St. Maarten celebrates this day as St. Martin/St. Maarten's Day.
The Dutch settled on the island in 1631 to set a post between their other two territories in Brazil and Nieue Amsterdam ( New York ). The Spanish overthrew the Dutch government, leaving. However, the Dutch did not heed in the reacquisition of this island and unsuccessfully raided the island for the next 15 years. After a notably hard-hitting victory to remain on the island, the Spanish Commander, asked permission to abandon the island and in 1647, the King of Spain granted him permission.
According to legend, some Dutch and French were left behind by the Spanish and established small villages throughout the island. The Dutch and French joined forces to keep the Spanish from settling on the island. This was finally achieved in 1644 when the Spanish abandoned their claims to the Eastern Caribbean.
Today, tourism is the island's primary source of income. Princess Juliana Airport was established in 1943. The first hotel opened on the island in 1947, the Sea View. The Dutch started promoting tourism in the 1950s while the French didn't publicize until the 1970s.
St.Martin (French) is a commune of Guadeloupe, which is an overseas department of France. Islanders are entitled to vote in French elections.

Zip over treetops at loterie farm's private nature reserve
Located near the foot of Paradise Peak, Loterie Farm's private nature reserve offers days of fun activities the whole family will enjoy including horseback riding, hiking, eco-tours, mountain climbing, yoga and much more. This peaceful 135-acre preserve also has a kids' area with suspended bridges and rope swings. Our favorite is "The Fly Zone". Get a birds-eye-view of the forest canopy and soar above tree tops on the adrenaline-pumping zip-line. Loterie Farm hiking trails travel 1400 feet to the top of St. Martin's highest point. You can't beat the panoramic view. If you're hungry, relax at the Hidden Forest Café. Bon Apetit magazine raved about this tree house-like eatery in February 2007. Or you can enjoy tapas and tropical drinks at The Tree Lounge. Both use ultra-fresh ingredients found on the island and garnished with flowers picked right inside the nature reserve.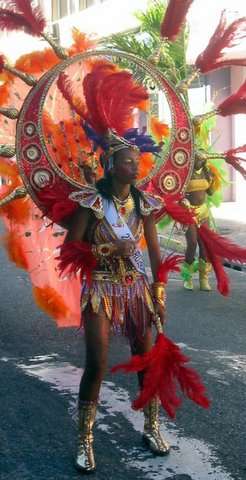 Party in the Streets of Marigot at Carnival
Carnival is celebrated in St. Martin's capital city of Marigot two weeks prior to Lent. Similar to other Carnival celebrations around the world, Saint Martin's features exotic costumes, colorful street parades, festive music, and lots of food. This is an ideal time to sample Caribbean cuisine and experience St. Martin's unique culture.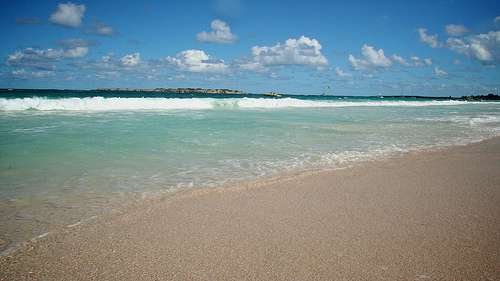 You can't miss the culture at Orient Bay...from windsurfing to "au natural" sunbathing and everything in between.
Orient Bay is the most developed and popular beach on St. Martin. The bay stretches for 2 miles and divided into 5 main beaches all side-by-side -- Kontiki, Kakao, Bikini Beach, Waikiki and Coco Beach (named for their respective bars). Recognized as a marine reserve, and protected by Atlantic winds, Orient Bay is a fabulous spot for snorkeling. You can also go parasailing, waterskiing or just rent a beach chair and soak up the sun. You'll see some topless sunbathers. There are a bunch of restaurants, live music and local hangouts. Another attraction is the nude beach and St. Martin's only naturist resort at the south end of Orient Bay.
Transportation on St. Martin
Getting to St. Martin and getting around. Our transportation tips will help make your trip smoother. More good sand advice.
Entry Documents
Entry requirements for Americans: US citizens need a valid passport, or a government-issued photo ID, such as a driver's license, as well as proof of citizenship, such as a birth certificate, to enter either St Maarten or St Martin; a return ticket or proof of onward travel is also required. No visa is necessary for a stay of up to three months. Entry requirements for UK nationals: British citizens require a passport valid for the period of intended stay. A visa is not required for stays of up to three months. A return ticket or proof of onward travel is required. This applies to both Dutch and French national sectors of the island. Entry requirements for Canadians: Canadian citizens need a valid passport or a government-issued photo ID, such as a driver's license, as well as proof of citizenship, such as a birth certificate, to enter either St Maarten or St Martin, and a return ticket or proof of onward travel is required. No visa is required for a stay of up to 14 days.
Airlines Flying Here
Air Canada, Air France, Air Caraïbes, American Airlines/American Eagle, Caribbean Airlines, Continental, Corsair, Delta, Jet Blue, KLM/Northwest Airlines, LIAT, United, US Airways and Winair.
Airport
International Airport of Juliana and Esperance Airport.
Departure Tax
US$20
Driving
On the right. A valid foreign or international driver's license is required for car rentals.
Local Transportation
Roads are generally in good condition. It is illegal to turn right on a red light. Seat belts are mandatory, and motorcyclists must wear helmets. Children under 12 years must ride in the back seat.
St. Martin Weddings and Honeymoons
Vacationers don't just stay in St. Martin villas - they come to paradise to get married and celebrate their honeymoons! Dutch - Application for a temporary tourist permit and permission to marry must be submitted to the Lt. Governor on the island. The response time can take up to 2 months. Once approved, there is a 10 day waiting period before the couple can marry. Cost: Up to US$275.55 and includes civil ceremony, marriage books, stamps and certificates.
French - Obtain a medical certificate on the island and present all documents to authorities for approval. Cost: No fee. Because there is a minimum of one month wait period before getting married on St. Martin, most couples choose to marry on the St. Maarten side of the island.
See our favorite villas for weddings.
Know Before You Go...® - St. Martin Travel Tips
Before making their way to St. Martin villas, vacationers like to know a little bit of helpful information to make them feel more at home during their stay. Take a look at our travel tips to make your time in villas in St. Martin even more relaxing.
Capital:
Marigot (French), Philipsburg (Dutch)
Size:
37 square miles total; 16 Dutch and 21 French.
Electric Current:
110/220
Time:
03:44 am zone:-4
(GMT/UTC -4)
Official Language:
French and Dutch respectively are the official languages, but English is common.
Currency:
Dutch - Netherlands Antillean florin, U.S. dollars widely accepted. French - The euro, but U.S. dollars are widely accepted.
Telephone:
Dutch - Local numbers have seven digits. For directory assistance dial 150. To make a local call within St Maarten you need only dial the seven-digit number. French - 590 plus the six digit number. Calls between the Dutch and French sides of the island are considered international calls.