Turks and Caicos Guide
Know Before You Go...®
Planning a trip to Turks and Caicos promises that you will have a vacation that is relaxing, peaceful, free of crowds, and complete with picture perfect scenery. Renting a villa on one of the islands that makes up Turks and Caicos gives you an ideal headquarters for exploring the area both on land and water. On this page and under the associated tabs, we've got all the information you need for planning and reserving your Turks and Caicos vacation.
Why Turks and Caicos?
Turks and Caicos is the Caribbean's most northerly coral archipelago.
The islands are renowned for their world-class beaches and crystal-clear turquoise waters.
The name "Turks and Caicos Islands" is derived from the two main islands in the chain, "Turk's Island" and "Caicos Island".
Turks and Caicos is home to the world's only conch farm.
The islands are home to the world's third largest reef system, stretching for over 139 miles.
Turks and Caicos Weather/Climate
History
The first known inhabitants of the islands were Taíno Indians, who left evidence of their occupation in the form of utensils and a ball court. After the arrival of Europeans, the Taínos were either forced into slavery or fell victim to European-borne diseases by the mid-16th century.
Over the next few centuries, ownership of the islands bounced between the French, Spanish and British, ending finally with Great Britain.
Development was slow, as the island was not on a main sailing route, possessed no gold or decent anchorage's and lacked sufficient rain to grow sugar. Turks and Caicos remained virtually uninhabited until 1678, when a group of Bermudans settled and began extracting salt and logging trees.
Salt traders cleared the land and created the salinas (salt-drying pans) that still exist on many islands. The majority of the salt went aboard boats to supply the cod-fishing industries of New England and the Maritime Provinces of Canada.
Following the American War of Independence, the Bermudans on the islands were joined by a group of colonial loyalists, who established cotton plantations. The plantation era was short-lived, and by 1820, the cotton crop had failed, and the majority of planters had moved on.
Turks and Caicos became a formal part of the Bahamas in 1799, but in 1848, following a petition by the Turks & Caicos residents, it became self-governing under the guidance of the Governor of Jamaica.
In 1872 the islands were annexed to Jamaica and stayed tied to Jamaica until 1962, when they were again linked to the Bahamas. In 1973, the they became a separate Crown Colony of Great Britain.
News and Notable
Property owners Keith Richards, Donna Karan, Michael Douglas (Dellis Cay), Bruce Willis, Christie Brinkley, Justin Verlander, and Kate Upton. Frequent visitors include Drew Barrymore, the Kardashian's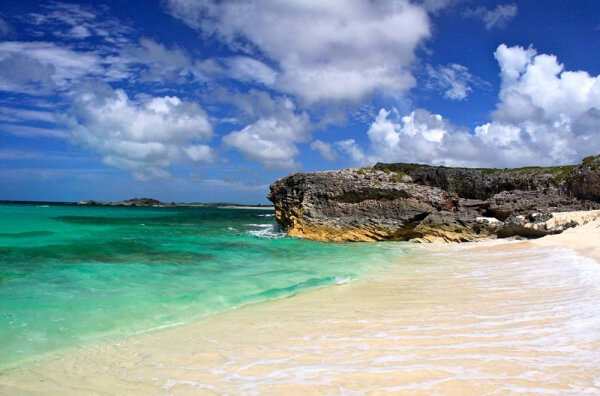 Take a picnic to Taylor Bay and you might have the whole beach to yourself!
Take a picnic to Taylor Bay Beach and you may well be the only one there. This beautiful crescent shaped cove is home to calm, clear, blue water, powder white sand and not a lot of visitors. The shallow depth makes this beach an inviting playground for children and families. There's no shade though, so don't forget your sunscreen.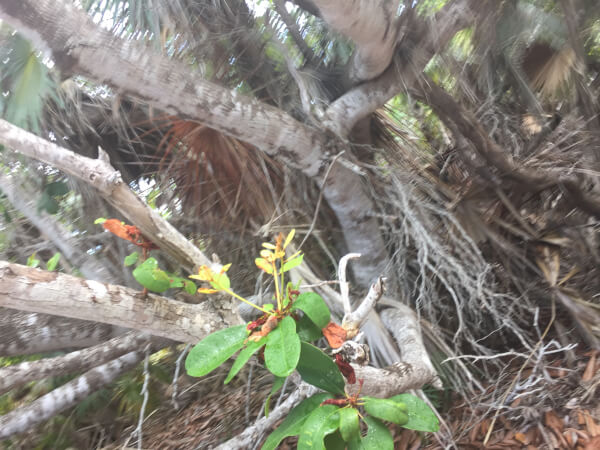 Visit Little Water Cay, home of the indigenous Rock Iguana.
Step off the boat, just a short ride from Provo, and West Indian rock iguanas will run out to meet you. These friendly creatures, found only in Turks and Caicos and parts of the Bahamas, were at risk of extinction. Now they are protected on this uninhabited cay thanks to an award-winning effort of public and private organizations. This sanctuary and its short boardwalk trail are a hit among visitors of all ages.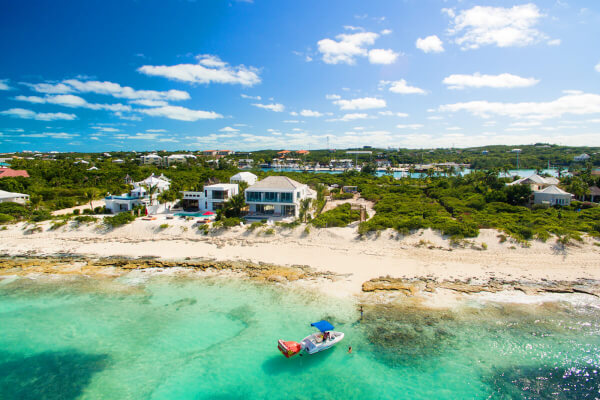 Smiths Reef might be a lesser known snorkel spot but it's one of the best!
As part of the 3rd largest reef in the world, Smith's Reef is calm and beautiful. However, it is not necessarily for the beginner snorkeler, but for someone a little more seasoned.
Transportation on Turks and Caicos
Getting to Turks and Caicos and getting around. Our transportation tips will help make your trip smoother. More good sand advice.
Entry Documents
All visitors must present a passport upon entering Turks & Caicos along with a return or onward ticket, all documents needed for next destination, and sufficient funds for the duration of their stay. The passport must not expire for at least 3 months after departing the country even if you do not intend to stay that long. There should be at least 2 blank pages in the passport for any entry stamp that will be required. A visa is not required for a maximum stay of 3 months.
All Americans traveling outside the US are required to present a passport to re-enter the US. Children's passports expire every 5 years.
Airlines Flying Here
Air Canada

American Airlines

British Airways

Caicos Express

Delta

jetBlue

interCaribbean Airways

Southwest Airlines

United

WestJet
Airport
Providenciales International Airport
Departure Tax
US $60 - included in the price of your airline ticket.
Driving
Drive on the left side if the road. Valid driver's license needed. Minimum age to rent is 25 years.
Local Transportation
Renting a car is the best way of getting around the small island of Providenciales, allowing for the most flexibility and mobility, even if it's just for a day or two of sightseeing. The "Gecko Bus" travels up and down Grace Bay, which is fun. Uber/Lyft are not on-island.
Turks and Caicos Weddings and Honeymoons
Vacationers don't just stay in Turks and Caicos villas - they come to paradise to get married and celebrate their honeymoons! Both parties must be present in Turks and Caicos for at least 48 hours before the license application can be started. There is a mandatory fee of $250, and birth certificates, passports and divorce papers/death certificate (if applicable) are required. All documents must be notarized and sealed. The ceremony can take place 72 hours after the license is granted. Anyone under 21 will need to have parental or guardian consent. NOTE: If you plan to marry in one of the island churches, you may need proof of membership.
See our favorite villas for weddings.
Know Before You Go...® - Turks and Caicos Travel Tips
Before making their way to Turks and Caicos villas, vacationers like to know a little bit of helpful information to make them feel more at home during their stay. Take a look at our travel tips to make your time in villas in Turks and Caicos even more relaxing.
Capital:
Cockburn Town, Grand Turk
Population:
47,720 (2022)
Size:
All of the Turks & Caicos Islands is 193 sq miles total; Providenciales is approximately 37 sq miles.
Time:
21:06 pm zone:-5
(GMT/UTC -5)
Official Language:
English
Currency:
US currency is used and Visa and MasterCard are widely accepted, but American Express is not. Discovers is not accepted at all. ATM machines are available in various locales, as well as at several banks.
Tipping and Taxes:
Tipping rates are similar to what they are in North America. Many restaurants automatically charge 10-15% so be sure to check your bill.
Dress Code:
Barefoot elegance, with beachwear during the day, but coverups are needed in public areas. By night, dressy shorts and blouses, or sundresses for the women. For the men, smart attire such as nice shorts and a collared shirts.
Topography:
The Turks and Caicos Islands sit on an underwater plateau which is primarily limestone and rises about 10,000 feet up from the Atlantic Ocean sea floor. The beaches are composed of broken down shells and coral resulting in brilliant turquoise water.
Telephone:
Area code (649), plus the local 7 digit number.