Cayman Guide
Know Before You Go...®
Visiting the Cayman Islands will give you easy access to some of the best snorkeling, diving, and fishing in the Caribbean. There's also lots of shopping and other activities to take part in away from your villa or hotel room, like a visit to the sea turtle hatchery. Use the information within these tabs to learn more about the three islands that make up the Caymans.
Why Cayman?
Stingray City: Snorkel or dive with friendly stingrays
Diving - and plenty of it
Seven Mile Beach
Pedro St. James National Historic Site
Turtle farm
Hiking the Mastic Trail
Sunbathing and snorkeling
Shopping and fine cuisine!
History
The Cayman Islands were sighted by Christopher Columbus in 1503 on his fourth trip to the New World enroute to Hispaniola. The two islands of Cayman Brac and Little Cayman appeared on a 1523 map and by 1530 were named Caymanas, derived from the Carib Indian word for the marine crocodile.
The first census of the Islands was taken in 1802, showing a population on Grand Cayman of 933, of whom 545 were slaves. Before slavery was abolished in 1834, there were over 950 slaves owned by 116 families. Emancipation paved the way for development of a homogeneous society.
Though Cayman was always regarded as a dependency of Jamaica, the reins of government by that colony were loosely held in the early years, and a tradition grew up of self-government, with matters of public concern decided at meetings of all free males.
The constitutional relationship between Cayman and Jamaica remained ambiguous until 1863 when an act of the British parliament formally made the Cayman Islands a dependency of Jamaica. When Jamaica achieved independence in 1962, the Islands opted to remain under the British Crown, and an administrator (in 1971 the title became Governor) appointed from London assumed the responsibilities previously held by the governor of Jamaica.
News and Notable
Selita Ebanks (fashion model)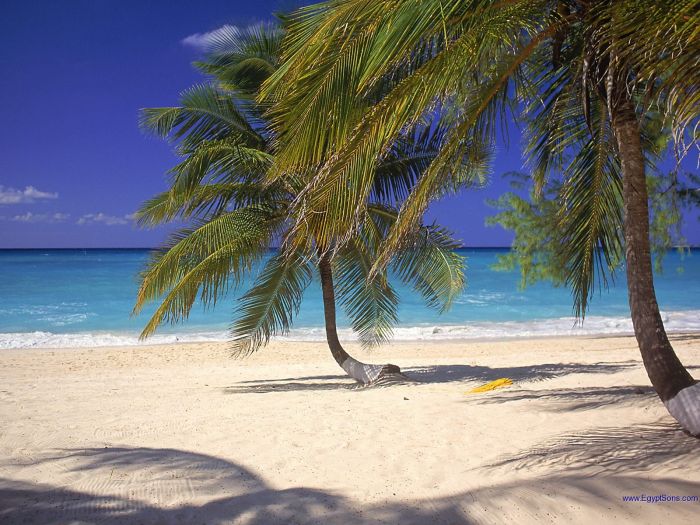 See and be seen on 7 Mile Beach
The place to be seen in the Cayman Islands is 7 Mile Beach on Grand Cayman. This stretch of white sand plays host to some of the hottest resorts on the island, casual and upscale restaurants and plenty of tour companies lobbying for your time. It's also the perfect spot for sunbathing and people watching. Even snorkelers come to explore the coral reefs here. From dawn until dusk, there's plenty to do and see on 7 Mile Beach!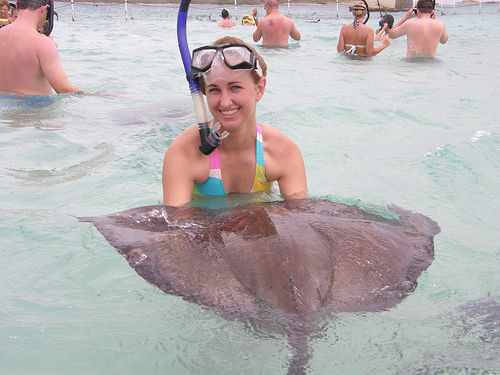 It's a feeding frenzy in Stingray City
Swimming with a school of sting rays sounds dangerous, but these charming sea creatures are surprisingly docile. In the mid 80s, fisherman would anchor at North Sound and clean their catch. It didn't take the stingrays long to sniff out this 'food court', and so Stingray City was born. Today, tourists bring the buffet and can see as many as 30 or 40 a day. Stingray City averages 12 feet in depth, so it's fun for even young visitors. You can also find stingrays swarming on the sandbar which is slightly shallower at depths ranging from 3-10 feet.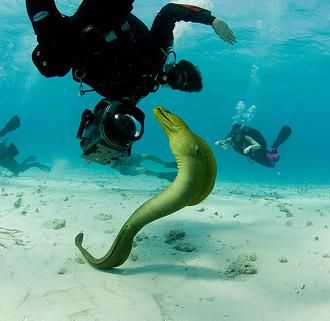 World-renowned scuba destination
You'll find the Cayman Islands on pretty much every list of top dive sites. And since scuba diving is so popular here, this is the perfect destination to learn to dive, take an advanced course, or get the kids certified. With so many dive sites, it's hard to pick the best spot but Little Cayman and the Captain Keith Tibbets wreck dive on Cayman Brac are among our favorites. And there's plenty of tour boats waiting to take groups out daily and even on night runs.
Transportation on Cayman
Getting to Cayman and getting around. Our transportation tips will help make your trip smoother. More good sand advice.
Entry Documents
US Passport
Airlines Flying Here
American Airlines United jetBlue Delta Southwest Airlines Cayman Airways Air Canada British Airways WestJet
Airport
"Owen Roberts International Airport" is the largest passenger airport in the Cayman Islands and is located on Grand Cayman. Cayman Brac also has its own airport, "Gerrard Smith International Airport".
Departure Tax
Included in the price of your airline ticket.
Driving
On the left - valid driver's license required. A seat belt law is in effect which applies to every person in the vehicle including children. You can drive in Cayman provided you have a valid driver's license & insurance coverage.
Local Transportation
You must be 21 years to drive a rental car. All visitors to the Cayman Islands who intend to drive any vehicle are required to purchase a temporary Visitor's Driving Permit for US$7.50 each (one-time charge, valid for six months or duration of stay, whichever is shorter) - except individuals who hold a valid International Driver's License. Scooter rentals are also available on Grand Cayman from a few companies. Riders are required by law to wear a helmet at all times and urged to be extremely careful.
Cayman Weddings and Honeymoons
Vacationers don't just stay in Cayman villas - they come to paradise to get married and celebrate their honeymoons! Work with a wedding planner on the island to help get a license granted by the Governor. Cost: US$200 plus a US$12 stamp duty. Documents Required: Passport or birth certificate, Cayman Islands embarkation/disembarkation card as well as divorce or death certificate. If you get married on a Sunday no live music can be played (on a liquor-licensed premises.)
See our favorite villas for weddings.
Know Before You Go...® - Cayman Travel Tips
Before making their way to Cayman villas, vacationers like to know a little bit of helpful information to make them feel more at home during their stay. Take a look at our travel tips to make your time in villas in Cayman even more relaxing.
Capital:
George Town (Grand Cayman)
Time:
03:09 am zone:-5
(GMT/UTC -5)
Official Language:
English
Currency:
Caymanian dollar (KYD) - U.S. dollars accepted.
Tipping and Taxes:
Restaurants often add 10 to 15% in lieu of asking customers to tip, however, if the service charge is not added, a tip (15%) is normal.
Topography:
Low-lying limestone base surrounded by coral reefs; Approximately 76 square miles, with the highest point at 60 ft above sea level.
Telephone:
International: country code - 1-345