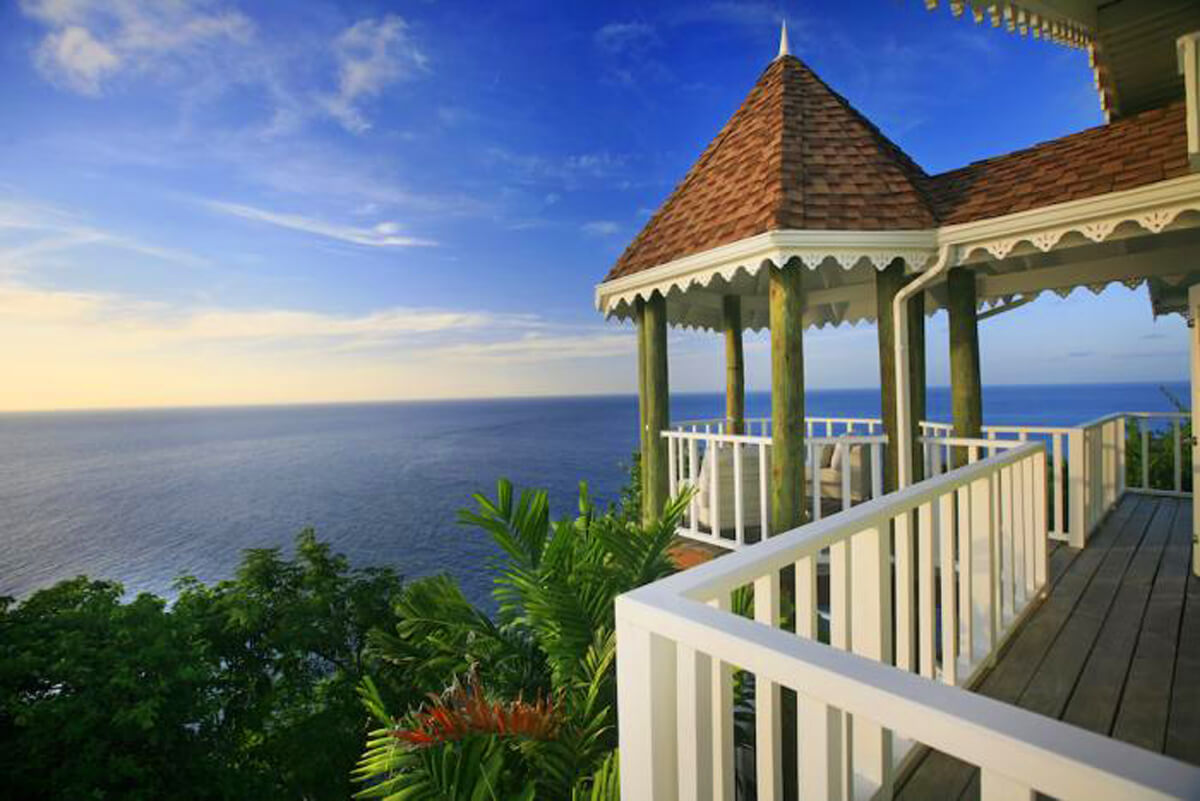 Upon arrival, you might be greeted with an enthusiastic "Welcome to Paradise!". Words aptly spoken – and why Saline Reef Villa is our "Best of" pick for this week.
Situated within St. Lucia's exclusive cliff side Cap Estate,
Saline Reef
provides unparalleled vistas of the St. Lucia, the Caribbean Sea, the Martinique Channel and Pigeon Island National Park.
The stunning views' only competition is the villa itself. Expect to feel pampered in this remarkable three-bedroom, three-bathroom haven.
Each of the three bedrooms includes an en-suite bathroom with spacious walk-in wardrobes and extravagantly soft bathrobes, slippers, and white Christy bath towels. You might find it difficult to leave your bed each morning what with being wrapped in upscale, plush hand-made linens and bedding - all imported from the United Kingdom. Accented in regal hues of aqua and silver, the upper master suite features a dressing room, iPod docking station, and access to its own private pool/sea patio and crow's nest.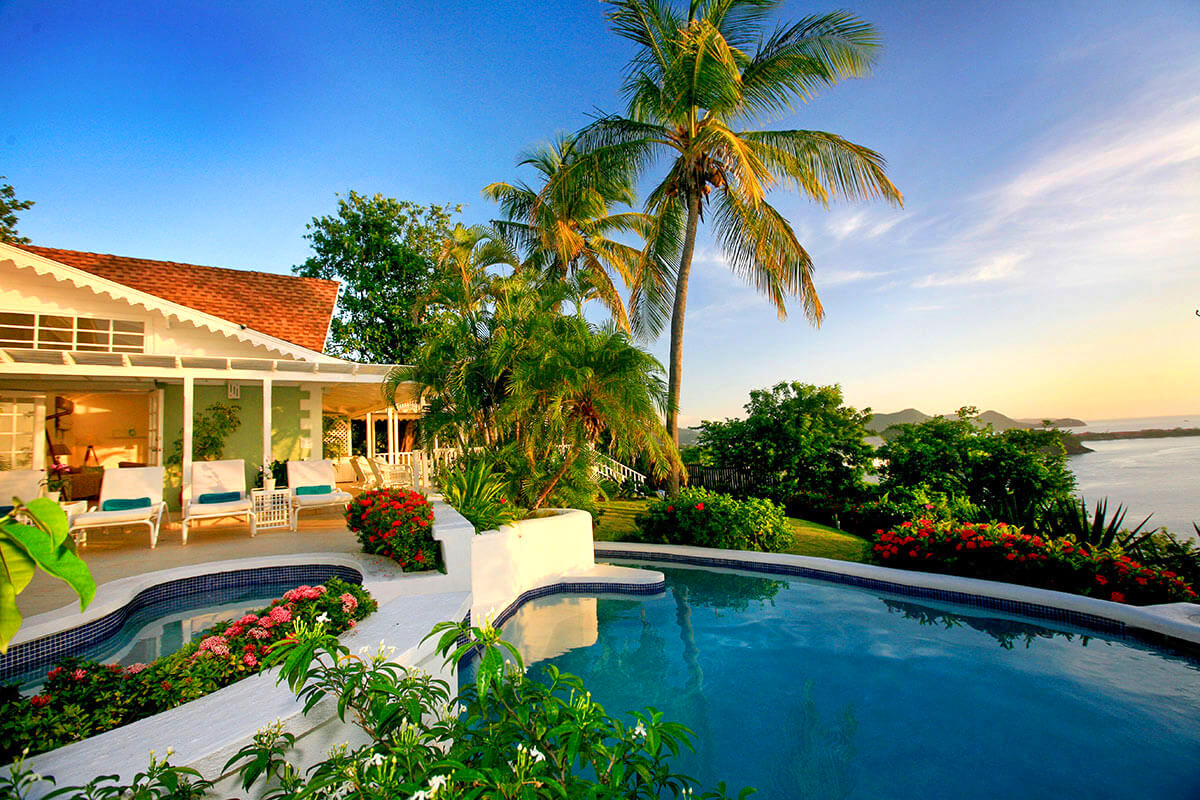 Guests in the middle master suite will appreciate the light tones punctuated with bold red accents. With no direct access to the outside, this bedroom is ideal for children. However, its cliff side location makes Saline Reef better suitable for older children and adults.

You might feel like you've descended from royalty amidst the gold and ivory décor of the lower master suite. Guests here also enjoy their own dressing room, iPod docking station, and their own pool/sea patio, and crow's nest.

Other areas of the villa prove equally impressive – the Great Room's vaulted ceilings and artisan sofas; the patio French doors that reveal two waterfall linked pools; and exquisite handmade furniture throughout the villa. Soak up the rays in the shallow pool, or swim off that extra pina colada in the larger one.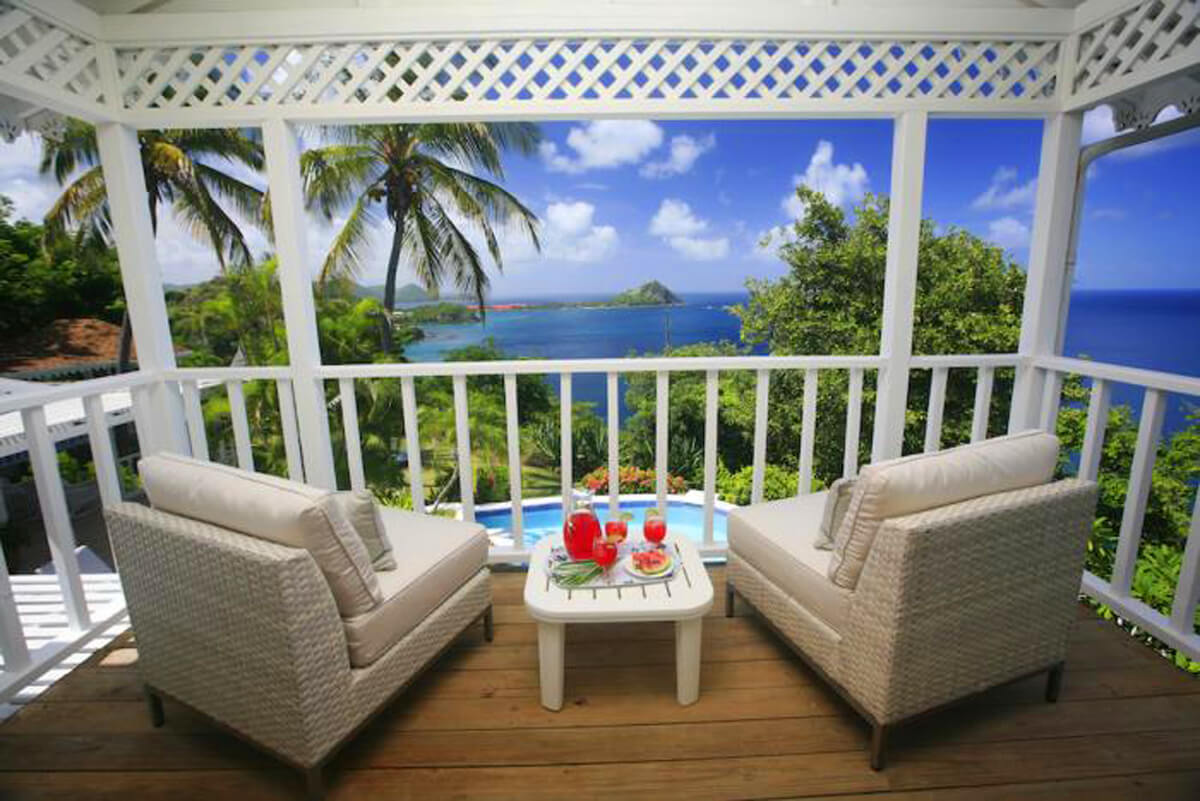 Modern and chic appliances in the spacious kitchen beckon your inner chef. However, should you desire to have a completely stress-free stay, your amiable housekeeping staff can prepare sumptuous meals at your request. In fact, the first morning of your arrival, you will awake to a complimentary St. Lucian style breakfast.
Lush landscaping; friendly gardening and maintenance staff; and a long list of amenities add to the lure of Saline Reef. If you're ready to kick back and saturate yourself in the luxury of
Saline Reef
, give us a call!