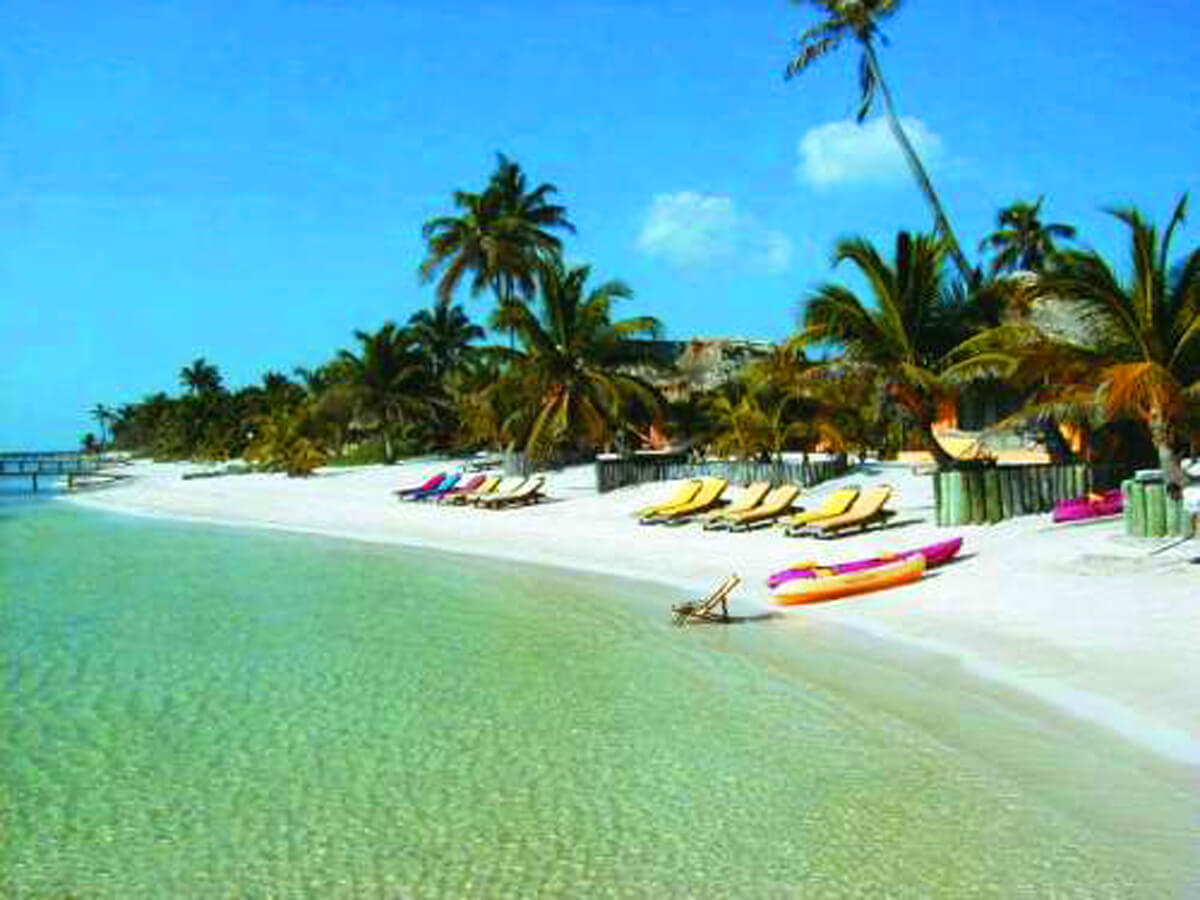 Sunday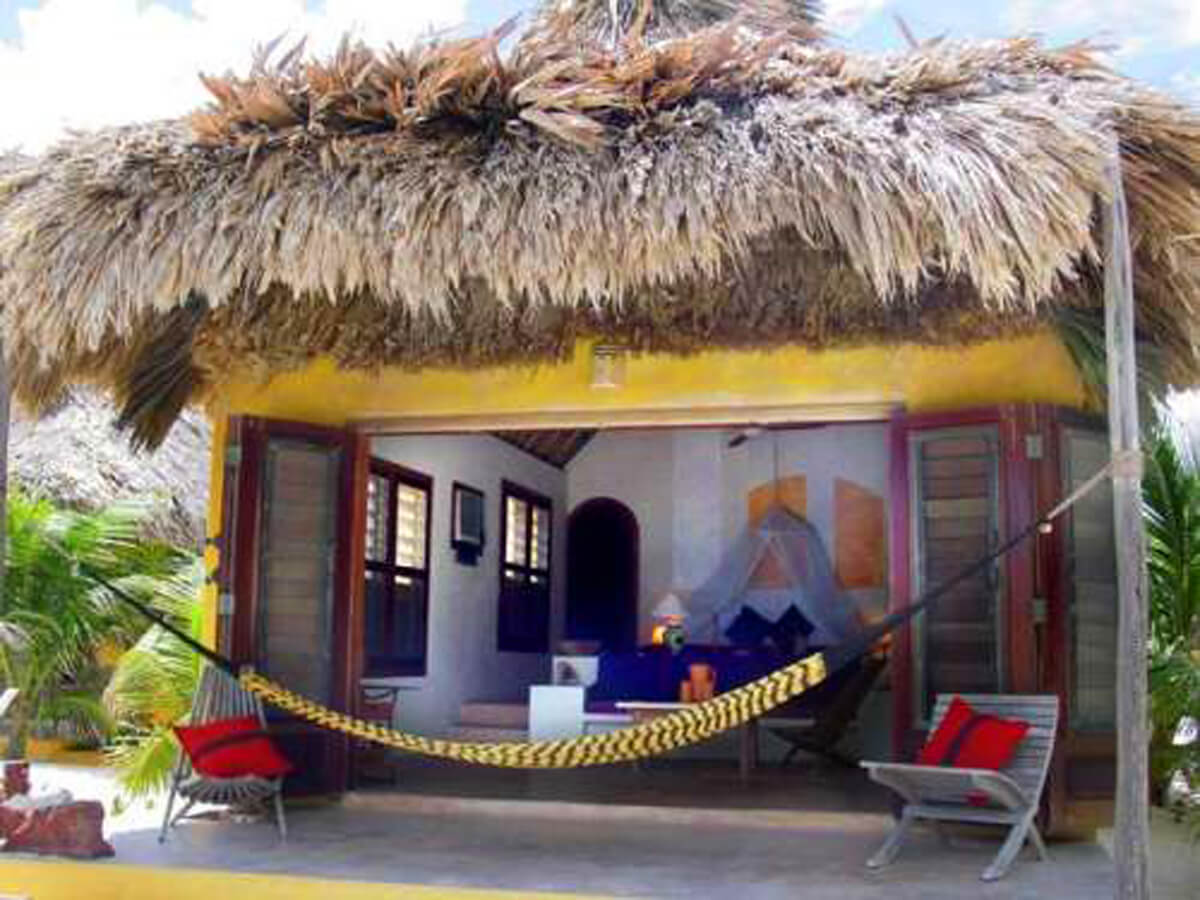 "Reef, rainforest and ruins," smiled Thom as we arrived and kicked off our shoes at Matachica, a beach resort on Ambergris Caye in Belize. He was summing up the attractions of this former British colony wedged on the Caribbean between Mexico and Guatemala, but my eyes were on the translucent jade-green water lapping a powder-sand beach. Hidden among a thicket of coconut palms were bungalows of all sorts and sizes. "La Isla Bonita," I replied. After all, it was Madonna who sang this sleepy little unpronounceable island into the mainstream with her Top-40 hit about it. Today, everyone just calls the island "San Pedro," after the main town just five miles south of Matachica.

We took a quick tour with the manager, and were impressed at the range of accommodations, something that makes Matachica perfect for everyone from honeymooners to groups of friends. They have beachfront casitas (beautiful white-washed bungalows just a coconut toss from the sea), two-bed (queen) sea view suites (farther back in the forest but slightly larger), sea breeze bungalows (quaint at 350 square feet, but with a small patio and hammock), two-story luxury Caribbean villas (can sleep four with two air-conditioned bedrooms and private bathrooms) and the creme-de-la-creme--the three-story beach mansion (3,000 feet of exclusive luxury with three bedrooms, private sun patio and kitchenette).

We're taken to our home-away-from-home, one of the two stilted and thatched luxury villas that sit on a low forested ridge, the height offering us a wonderfully sweeping view of the lagoon in front of the resort, and the dark blue water beyond the world's second largest barrier reef. Like the other bungalows, ours is a slice of Belize--polished wood floors, louvered sliding bedroom doors, plushly pillowed furniture and local art.

Monday

Cloud-light but warm feather duvets and the gentle hum of the ceiling fan (we prefer night winds to the air conditioner) rewarded our long day of traveling yesterday with a wonderful sleep.

We were up early this morning and back to San Pedro for our wild day-long adventure out to Belize's famed Blue Hole with the aptly named Amigos Del Mar, a PADI facility that offers non-divers a chance to explore this famous underwater cave. We cruise out 50 miles off the coast to the lovely Lighthouse Reef, one of four atolls in the Caribbean. The captain motored carefully into the channel where the turquoise shallows suddenly drop away in the 400-foot cobalt of the Blue Hole. The Maya believed that caves were portals to Xilbalba--literally "The Place of Fear." And dropping over the side of the Pro 48 dive boat to watch the divers slowly sink into the deep darkness, I felt a shiver run up my spine. Even snorkeling, we felt the awesome magic of this underwater realm as we cruised out of the warm shallows full of fish to watch the distant tinkle of bubbles far below.

We spent the rest of the day snorkeling shallow reefs full of schools of jacks and wrasse and draped in orange sponges and deep purple coral. At Half Moon Caye, seven miles south, we enjoyed an idyllic picnic lunch and do a little noisy and smelly bird-watching?more than 2,000 breeding pairs of red-footed boobies make their home here.

Back at Matachica at sunset, weary but relaxed, Thom and I enjoyed our first meal at Mambo, the resort's restaurant. Fit for a Mayan king, the thatch-roofed palapa is decorated with all sorts of local art, from paintings to ceramics. We, of course, appreciated the wonderful artists behind the scenes, as the chef delivered a rich plate of homemade fettuccine along with our two local Belikin beers. I was amused to see that the salt and pepper shakers were made from sea shells.

Tuesday

Today was a well-deserved rest day spent pampering ourselves at the resort spa. An hour wasn't going to do it today. Thom indulged in the 90-minute therapeutic massage, a marvelous whirl of Swedish, deep tissue and Shiatsu massage, while I had a sea salt and sea clay body mask massage followed by a one-hour aromatherapy massage. We were Jell-O by lunchtime, so the umbrella beach loungers beckoned. Tomorrow we'll do some snorkeling at the nearby Hol Chan Marine Reserve.

"Relaxed?" Thom asked over the pages of a dog-eared paperback from the resort's small library. "You'd better Belize it," I said.