Bahamas Guide
Know Before You Go...®
Whether you're heading to the Bahamas to party or relax against the backdrop of sandy beaches and the sparkling ocean, there's a lot to know before booking your villa or rental property. Use the information on this page to learn which Bahamas islands specialize in water sports and which are known for shopping, and find out tons of other useful information as well.
Why Bahamas?
Beaches and more beaches
Sailing and fishing
Snorkeling/diving the Train Wreck off Eleuthera
Diving with the dolphins off Grand Bahama Island
Great Inagua
Black hole diving
Nightlife and casinos
History
The first settlers were originally from South America and arrived in the Bahamas in the Ninth Century. They were known as Arawaks or Lucayans. English settlers left Bermuda in 1647 and formed the first British colony on the island of Eleuthera and began a prosperous agricultural economy that still thrives today. The geography of the islands attracted many well-known pirates such as Blackbeard, Henry Morgan, and others who dominated the islands for the next 70 years in what was known as "The Golden Age of Piracy." Britain claimed the islands in 1670 and the first governor finally drove the pirates out in 1718. Britain then recognized the Bahamas as a colony. Great Britain granted the islands their independence in 1964. In 1973, the Commonwealth of The Bahamas became independent, but retained Queen Elizabeth II as constitutional head of state.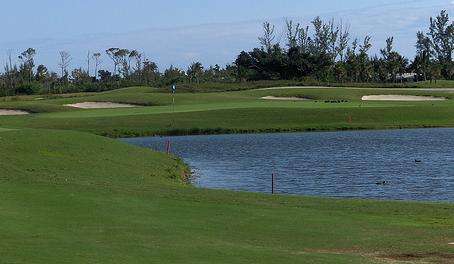 Tee off at one of the best golf courses in the Caribbean
Travel & Leisure and Caribbean Travel & Life magazines both recognized Our Lucaya Resort on Grand Bahamas Island as one of the best for golf. Experience it for yourself on one of two 18-hole, par of 72 golf courses. The Reef Course has been called a "Scottish-like course, but a lot warmer". It opened in 2000 with deceptively open fairways, rolling greens, and an assortment of tall grasses, treacherous bunkers and huge lakes. It's rated one of the Top 5 courses in the Caribbean. The Lucayan Course, which was originally laid out in 1964, features tree-lined fairways, small elevated greens and Dick Wilson bunkers. To help you play your best, the resort is home to one of the finest golf schools in the world.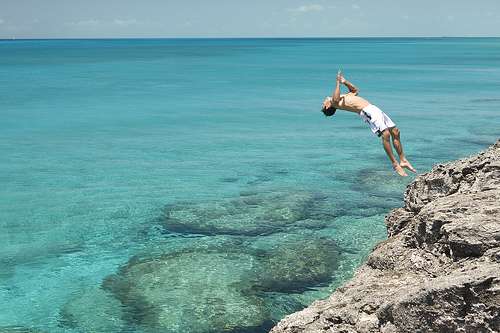 The seclusion of the Out Islands is unbeatable
Bahamas is a collective term for the 2000 cays and 700 islands 50 miles off the coast of Florida. The main cities of Nassau and Freeport are on two of the smaller islands in the chain. The other populated islands and cays are known as the Out Islands. These remote gems are not hard to get to if you're looking for a secluded vacation spot where you won't find cruise ships, high-rise hotels or crowds. It's the perfect romantic get-away or honeymoon spot for beach-lovers and sun-gods. You'll find excellent snorkeling and diving, fishing, kayaking, boating and sailing, eco-tours and a unique, colorful culture that welcomes the relaxed Bahamian lifestyle. The Abacos Islands are known as the world's top boating and sailing destination. The islands of Acklins and Bimini lure fishermen, divers and snorkelers. Andros is a natural wonder boasting the third largest barrier reef in the world. Cat Island is a fishhook-shaped island that's only 48 miles long and 4 miles across. Though small, there's plenty to see and do with miles of hiking trails and clear water filled with coral reefs, blue holes caves and shipwrecks. Eleuthera Island is known for the high cliffs on the eastern side and also the pineapple plantations. If you're looking for pink sand and luxurious resorts, check out Harbour or Exumas Islands. And finally, Long Island has the deepest blue hole in the Bahamas (more than 600 feet). It's also a haven for fishing, sailing and yachting.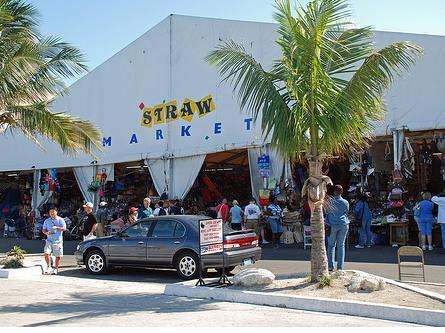 Bargain hunting at the Straw Market
Venture into the heart of Nassau, near Bay Street Shopping Center and George Street, and you'll find the Straw Market tent. Here you can shop for handcrafted Bahamian treasures including signature straw hats, beautiful handmade woodcarvings, tubs of Guava Jelly and other island souvenirs. You might also run into vendors selling knock-off Rolex, Prada, and other luxury items. Just don't be shy about bargaining. Those that don't usually over pay. Open 7 days a week from about 7am to 8pm.
Transportation on Bahamas
Getting to Bahamas and getting around. Our transportation tips will help make your trip smoother. More good sand advice.
Entry Documents
Proof of citizenship (passport, birth certificate and photo I.D. in the form of a driver's license) and a return or ongoing ticket. British and Canadian citizens may enter without passports or visas.
Airlines Flying Here
American, Delta, British Air connects the Bahamas through Miami and Fort Lauderdale. Bahamasair flies from Miami to Nassau and Freeport.
Airport
Lynden Pindling International Airport, the main airport formerly known as Nassau International Airport; six airports exist among the many islands - numerous flights from the U.S.
Departure Tax
$15 U.S
Driving
On the left - need to show driver's license to rent a car
Local Transportation
Car rental and taxis.
Bahamas Weddings and Honeymoons
Vacationers don't just stay in Bahamas villas - they come to paradise to get married and celebrate their honeymoons! An affidavit available at the U.S. Embassy in Nassau must be completed. Cost: US$120 for a marriage license. Documents Required: Passports or birth certificates plus divorce or death certificates, if applicable.
Know Before You Go...® - Bahamas Travel Tips
Before making their way to Bahamas villas, vacationers like to know a little bit of helpful information to make them feel more at home during their stay. Take a look at our travel tips to make your time in villas in Bahamas even more relaxing.
Size:
3,940 sq km, slightly smaller than Connecticut
Time:
21:29 pm zone:-5
(GMT/UTC -5)
Official Language:
English (official), Creole (among Haitian immigrants)
Currency:
Bahamian dollar (BSD), US dollar accepted
Topography:
long, flat coral formations with some low rounded hills
Telephone:
international: country code - 1-242