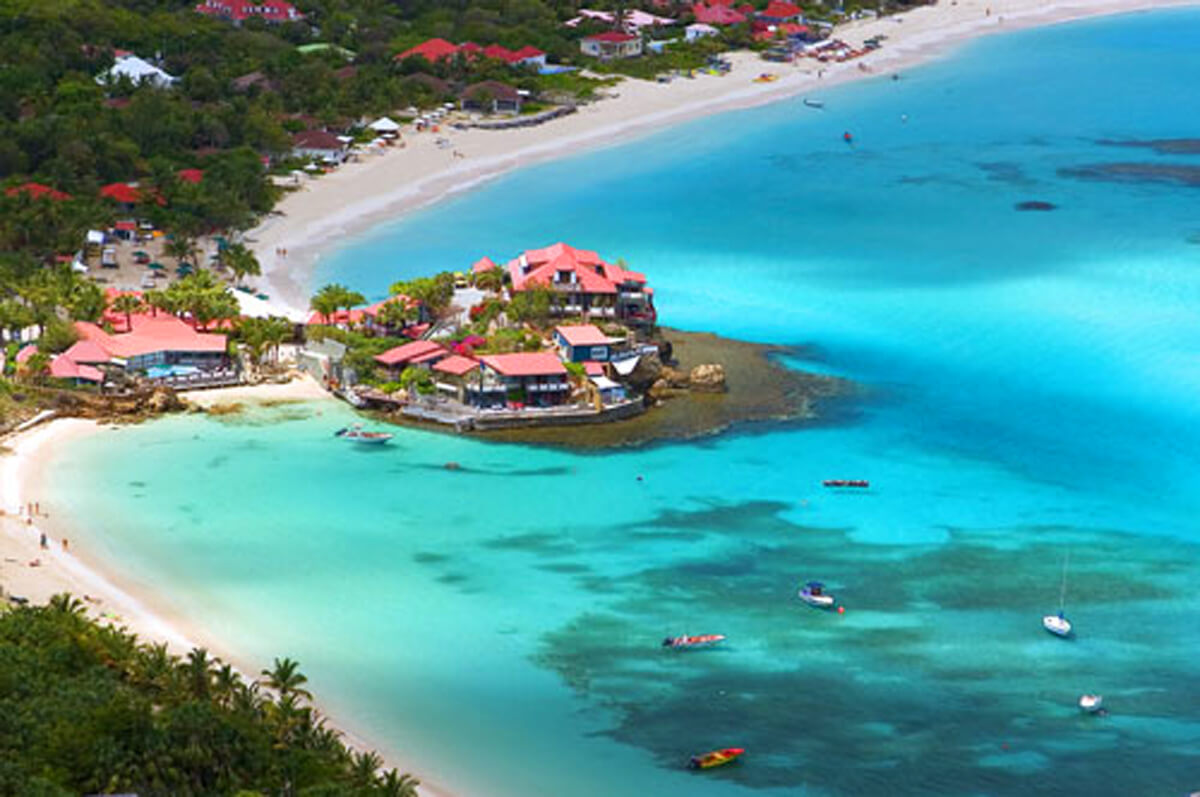 Sunday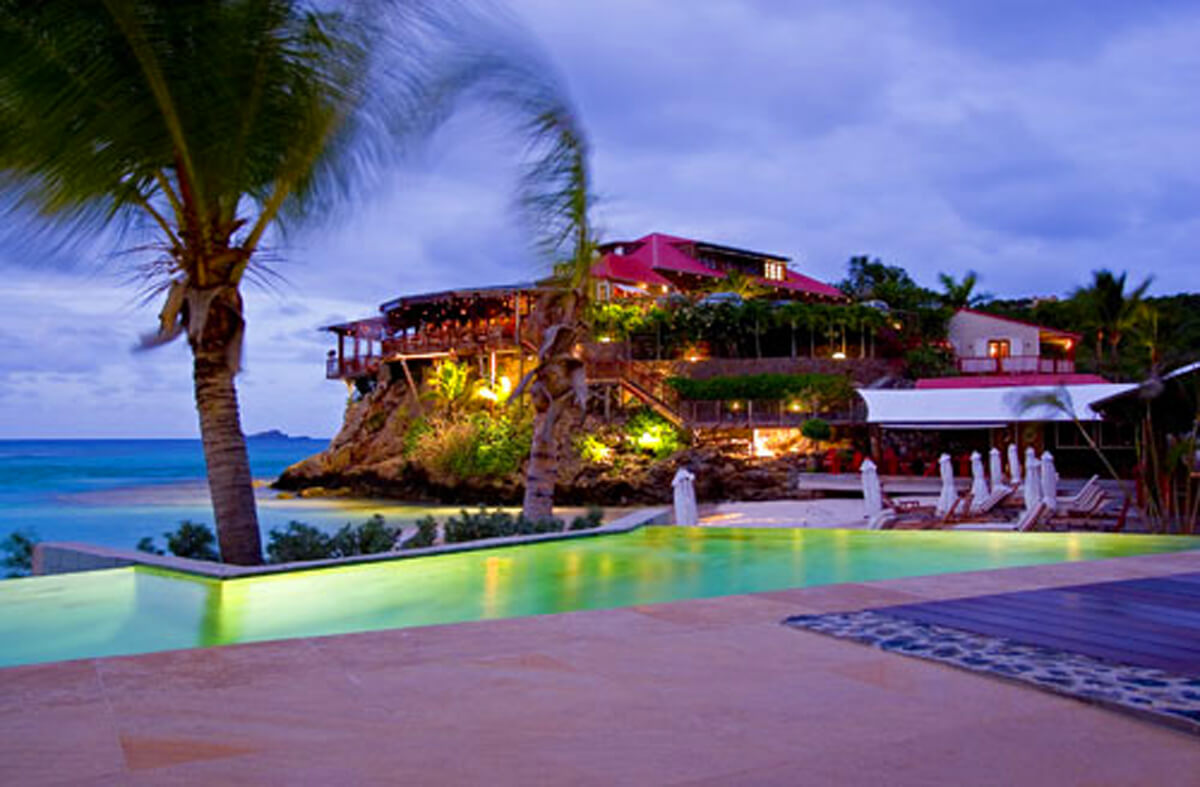 "Eden Rock Hotel is the kind of place where--if you close your eyes to the sugar-sand beaches and the turquoise waters--you can be forgiven for thinking you've landed on the French Riviera instead of the Caribbean," Shawna announced shortly after we arrived at this world-class Relais & Chateaux property on St. Barthelemy--St. Bart's to you and me.

She was right. Here it's jazz instead of reggae, duck breast with polenta instead of conch salad, and your most outrageous whim (Loaner iPod on the beach, A facial in the garden patio) is met with a graceful "oui, monsieur." In fact, Shawna and I have it on good authority that the French word "non" does not exist in this small, luxurious corner of St. Bart's, which is probably why the readers of Cond? Nast voted Eden Rock as the number one Caribbean hotel in 2007.

Our arrival in this distinctive French Indies paradise was a thrilling 10-minute flight from the Dutch island of St. Maarten, due north, barely enough time to read the emergency door directions.

The Eden Rock Hotel is really more of a collection than a hotel. Accommodations sprinkled on and around a rocky promontory in St. Jean's Bay include the Big Beach House, Diamond Suites, Heavenly Beach Houses, Premium Suites, Classic Rock Suites, Contemporary Beach Rooms and Garden Cottages (and they just added two new, six-star luxury villas).

Shawna and I settle in to the Howard Hughes Diamond Suite, which occupies the top floor of the original building perched on Eden Rock. The one-bedroom (with kitchen, dining area and living room) is all rich, dark wood glossy with maritime stain, beige contemporary furniture and a king-sized bed. There are two gorgeous copper-clad bathrooms?one with a rainfall shower and the other with a sunken Roman bath. But the highlight is the view from the three terraces: three hundred and sixty degrees of blue water, white sand and palm trees, and colorful sailboats bobbing at their moorings.

Monday

You know that service isn't just lip service when the staff of a resort outnumbers the guests, as in here where there are 140 employees taking care of a maximum of 66 guests.

Eden Rock has refined guest services to an art. So it's not surprising that the family-owned property has always been an escape for the rich and famous, from its early days when Greta Garbo and Robert Mitchum were frequent visitors, to the more contemporary crowd including model Elizabeth Hurley (who has her own line of beach fashion on display in the Eden Rock Shop) and Mariah Carey.

The cuisine is often raved about, not surprising since the executive chef is the talented Jean-Claude Dufour. After sleeping in and catching up from jet lag, Shawna and I wandered down to the Sand Bar and sampled his artwork. I had chilled gazpacho (with a hint of watermelon) followed by saut?ed mahi-mahi with almond-ginger and thyme sauce and tempura vegetables. Shawna enjoyed farfalle pasta with tomato sauce and white truffle olive oil.

After lunch and a few hours on the beach, we strolled past the brand new gym with its cardio machines and free weights (mandatory if you have a chef as renowned as Dufour on site) and indulged in spa treatments. The Eden Rock Wellbeing menu was as delicious as the dining options: traditional Nad Bo'Rarn Thai massage (stretching, kneading and tapping to restore harmony)?my choice, and Siam aux huiles Thai aromatherapy massage for Shawna. She had some tough decisions to make: natural sweet almond, jojoba or coconut oil (or any one of the other 20 oils).

Rested and back in harmony, we had just enough time to do some shopping at the boutiques lining the village of St. Jean (only a two-minute walk from Eden Rock).

We're back from dinner and I have to agree with a couple sitting nearby who crooned that Eden Rock's On the Rocks restaurant, and its French-Caribbean-Asian fusion cuisine, is the best restaurant on the island. Shawna and I arrived for an early dinner so we could enjoy the sunset falling on St. Jean's Bay. Situated on the highest point on the property, open-air On the Rocks commands a wonderful view of the whole bay.

Hooked on Dufour's soups, I had Thai soup perfumed with lemon grass and cilantro and followed that with wild duckling breast with polenta and mushrooms.

The sun was almost down and a rose light had fallen on the wide sweep of beach and bay. Light jazz was playing in the background. "You know what I was thinking?" Shawna asked as we shared a wonderfully light pineapple and rice pudding roll with coconut sorbet. "It even tastes like the French Riviera." I thought about it and nodded, and too late realized she had taken advantage of my pause to sneak the last bite of pudding roll. Just like the French Riviera, I sighed.