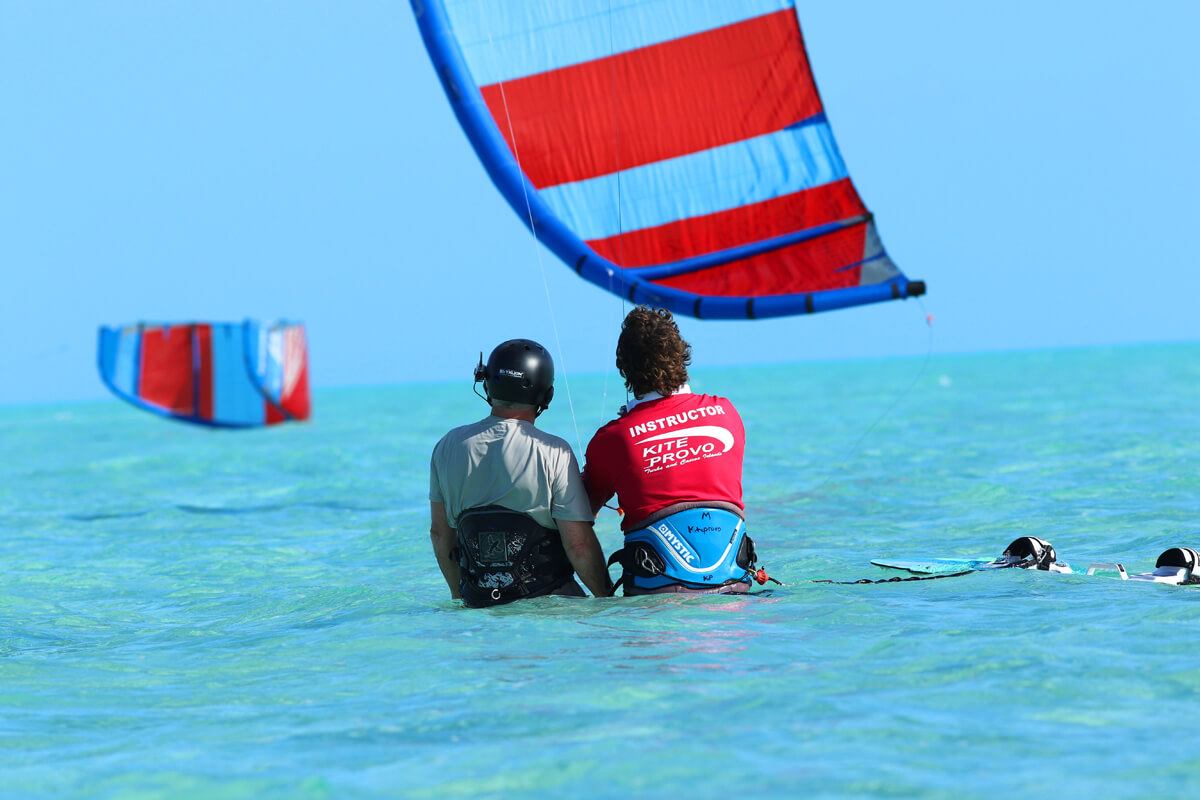 "Okay, now hold onto these handles and adjust your feet, like this." I watched as my KiteProvo instructor shifted his feet an inch apart. Following the same stance, I tightened my grip on the kite's control bar and braced myself for a tropical wind to throw me off my board. Instead, a breeze blew my kite into a colorful arc and gently pulled me into the water. I gasped. I was kiteboarding!

Thom and I had heard incredible things about Turks and Caicos' KiteProvo, and knew we had to see kiteboarding for ourselves. We found a lesson time that lined up with our trip itinerary, called the number on KiteProvo's website, and spoke with an instructor whose eager enthusiasm rubbed off on us within minutes.

"We'll see if this lives up to the hype," Thom whispered to me with eyebrows raised when we arrived on Long Bay weeks later for our first kiteboarding lesson. The instructors were working with first-timers on the beach who varied in age, size, and athleticism. We looked out on the water as an instructor led a demonstration — zipping through the water as if he was Poseidon himself. Suddenly, I had an overwhelming urge that I had signed myself up for a day of embarrassment and potential injury. My fears disappeared before the next gust of wind blew in. We were greeted by Chris, a friendly instructor who we soon discovered was the cofounder of KiteProvo and one of kiteboarding's biggest players. Chris has been kiteboarding since the sport began in 1999, and was a sport kite competitor before that.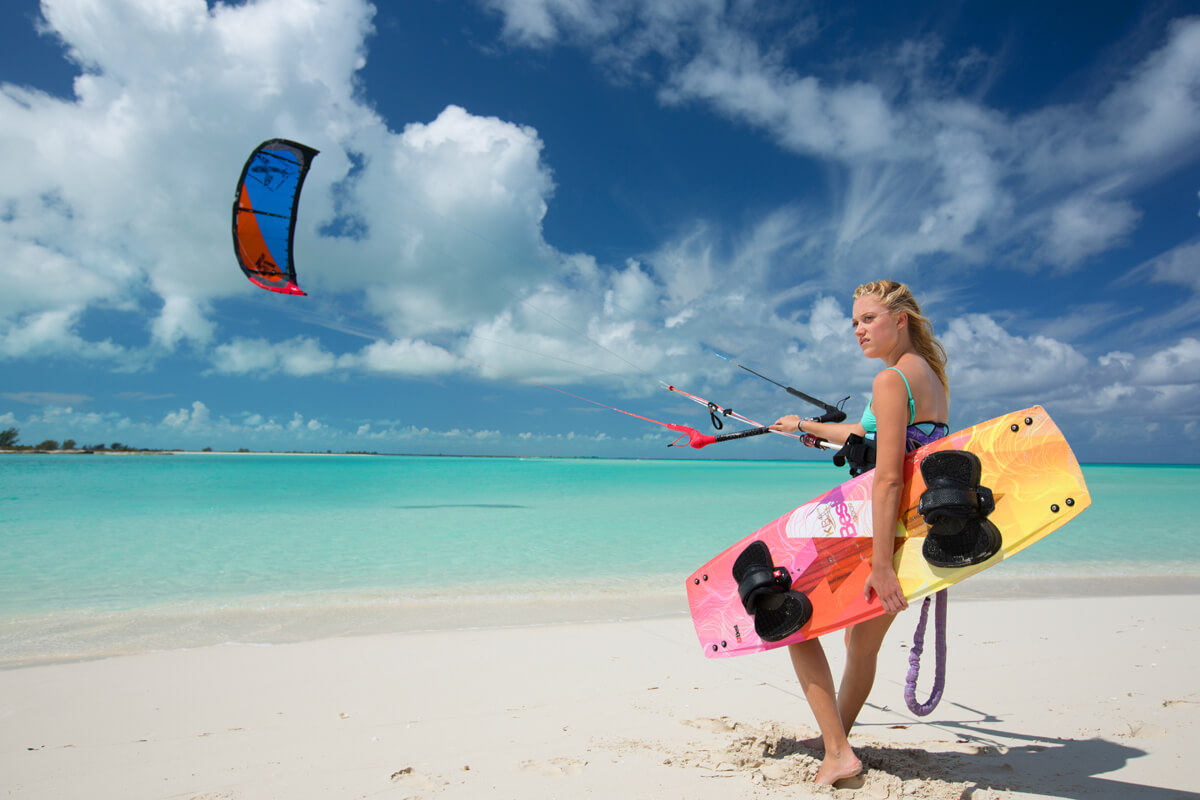 "The first lesson of kiteboarding is that kiting can be whatever you want it to be." An easy smile slipped onto Chris' face as he surveyed our group. "This can be a soul ride, totally tranquil, or it can be a physically aggressive workout. First, we're going to focus on getting you comfortable and confident on the board. How's that sound?"
Thom nodded, I gave a thumbs-up. Chris launched into an explanation of kiteboarding, wind, and KiteProvo's school. Kiteboarding is for anyone, given they meet the 80lb weight limit. It's low-impact, and doesn't require extraordinary strength or coordination. Chris explained that successful kiteboarding is less about the student, and more about the instructor. His face filled with pride as he began talking about his instructors.
"I actually started a company that teaches instructors how to teach, because early methodology wasn't the best fit for first-time students. We teach them how to come up with lesson plans, how to communicate and adapt to learning styles, and how to read body language. I've taught thousands of instructors in the past 20 years." I looked down at my crossed arms and wondered if my body language gave away my apprehension to put my life into a kite's hands… or strings. Thom looked as carefree as Chris with his hands slung into the pockets of his swim trunks. I moved my hands to my hips, hoping I could feign confidence long enough to strap my feet onto the board. Luckily, I had more time to get comfortable with kiting when Chris began passing out power kites for us to practice using on land. "This will help you get a feel for the board's mechanics," he explained, as if sensing my fears. "Kiteboarding isn't difficult, it just takes effort."
Easy for you to say, I thought. Chris started the first kiteboarding school in existence, choosing the Turks specifically for its 10 month long wind season. November - August has nearly constant wind, and for the two months of low wind, KiteProvo instructors focus more on education and preparation than getting on the water. Less than an hour later, I had gotten used to the feel of the power kite and had moved into the water to practice power strokes on the LEI. LEI stands for "leading edge inflatable", and is meant to wrap up the fundamentals of kiteboarding before you start riding. As we finished this lesson, Chris passed out our helmets. "The most important part of kiteboarding is confidence. You may doubt yourself, but I'll be in your ear the whole ride to guide you. You're going to do great, guys!" I inspected the helmet and saw that there was a speaker on the outside. Chris wore a headset with a microphone that connected to our helmets via bluetooth. I later learned that this is one of the key factors that sets KiteProvo apart from stateside kiteboarding schools.
Finally, I was on the board. I had the control bar in my hands, adjusted my feet like Chris had, and watched a breeze inflate my kite into an arc. Instead of the death-defying zoom I was expecting, I was gently pushed into the waves. This was fun!
Chris spoke into his microphone and echoed in my helmet, "lean into the wind on your right!" I leaned, and began riding through the water. "Wooooooohooooooo!" I yelled as I zipped around the bay, feeling light as a feather. Chris watched and guided me throughout the ride, and the island breeze pushed all my fears off my shoulders as I was carried through the sea. Chris' enthusiasm for kiteboarding finally clicked for me, I could see why someone would dedicate their life to this!
After our lesson, Chris told us about a past client who showed up at KiteProvo with a chronic medical condition. "They were at the end of their hope, but they were brave enough to try kiteboarding. A few weeks after their lesson, I got an email from them telling me they'd found a new zeal for life. Nothing beats that." KiteProvo is more than a bucket list item, it's life-changing. Parents who are battling to relate with their teenagers suddenly find common ground on the water, and make memories to carry into deeper conversations long after they return to shore. Chris gets letters from past guests thanking him for their lesson on a weekly basis, if not daily. I understand why, trying something new and succeeding is a self-fulfilling experience that can't be put into words. Thom and I spent the whole ride back to our villa talking about KiteProvo, and kiteboarding came up often throughout the rest of our trip. If you want to try kiteboarding, to take a look at our
Turks and Caicos villa rentals
and give us a call. We'll take care of the rest!
Learn more about Kite Provo at
http://kiteprovo.com/