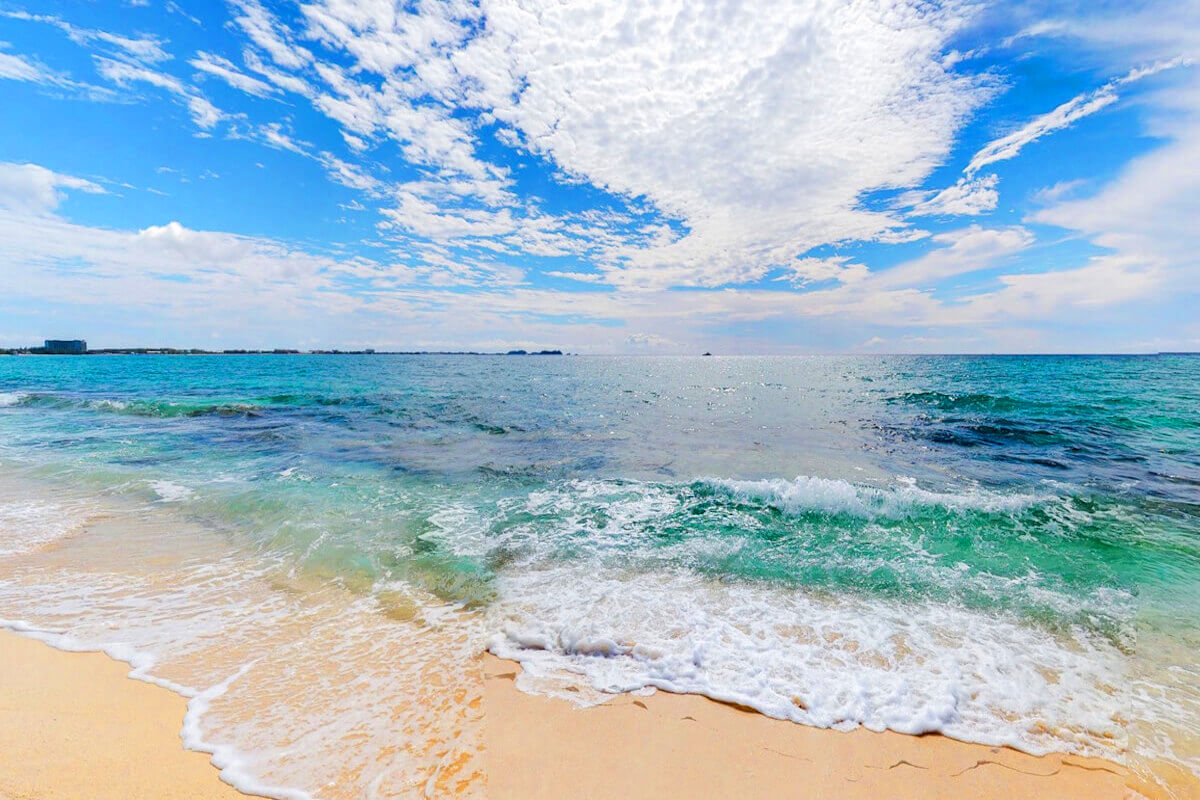 The Cayman Islands
are the sapphires of the Caribbean. Turks and Caicos and St. Barts may be the best-known and most glittery, but Cayman shines in its own way. The Cayman Islands are a trio of lovely, unspoiled islands with enviably high standards of living and the best scuba diving in the world. From the liveliness and activity of Seven Mile Beach to the exotic wildlife in Queen Elizabeth II Botanic Park, there's something for everyone in the Cayman Islands. At WhereToStay, we firmly believe that the best way to experience the Caribbean is to eat, sleep, and breathe it. Most people will never own their own private island or tropical estate, so we want to help you find your villa rental soulmate.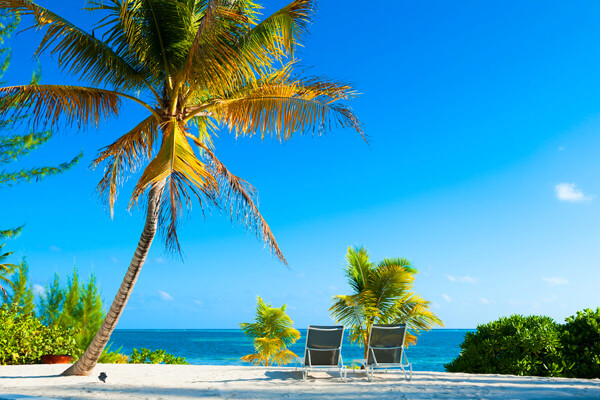 Grand Cayman has something for everyone. You can book a family vacation rental, corporate retreat, or getaway with friends on nearly any budget or style. Our favorite villa rentals incorporate beautiful designs, stunning views, and top-notch amenities. With hundreds of rental properties to choose from, it can seem overwhelming to settle on your dream villa. That's why we've done the grunt work for you.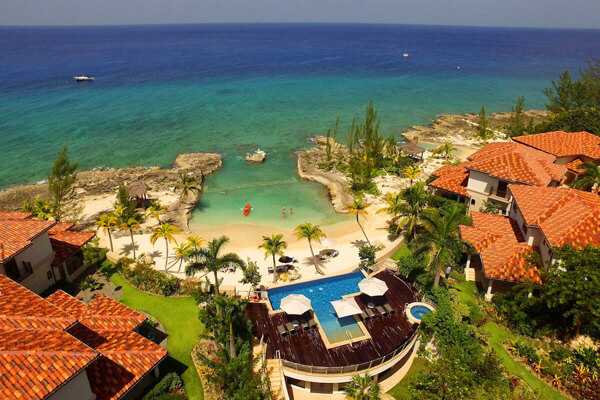 Do you and your best friends want to take a budget-friendly vacation near the beach and town? Take a peek at
Casa Luna
. Only a short walk from a private beach, this
resort villa
has a unique layout perfect for groups and couples. The bedrooms and common areas are spread out over four levels, and there's a super-private bathroom all alone on the lowest level. The Master Suite is on the top level by itself, and the other two suites share the lower level. The common area is in the middle, so you and your friends can meet halfway for movie nights, drinks, and meals. It's minutes from George Town, which is perfect if you want to go shopping or try the island's local cuisine.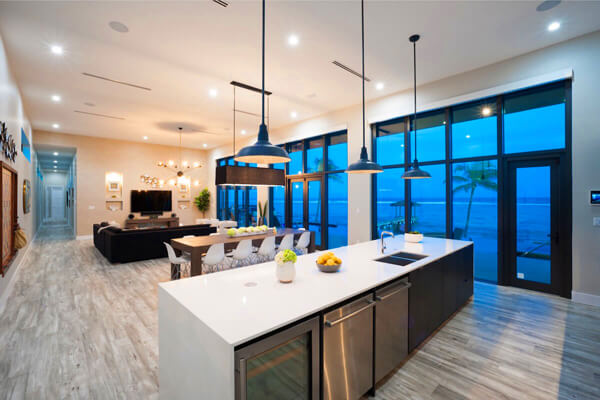 Do you need an upscale, child-friendly, oceanfront villa? Check out
Evolution
, and revolutionize how your family vacations. Not only is there a perfectly-designed children's bedroom, but there's also games and activities throughout the house that kids of all ages will love. The main gathering spaces are all open and have walls of glass doors facing the deck and beach, so you can keep an eye on everyone from any room. If you want to relax outside, the deck is massive enough for the whole family. There's a long lap pool, two dining verandas, and a nearly private beach steps away. Paddle the kayaks off the boat dock to explore the picturesque coastline, or drive to four different beaches in half an hour.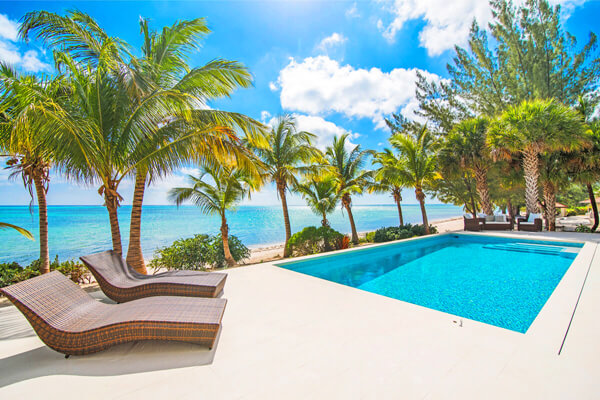 Want to wow your guests? Try
Oceanus
, an expansive, 6-bedroom villa rental with no shortage of ocean views. Oceanus is on the quieter side of the island near the East End, so you don't have to fight crowds for the perfect spot on the beach. This villa has sleeping arrangements for 21 spread out over four levels, and there's an elevator that travels between. Of course, what's a Caribbean vacation without a quiet beach, sunshine, and palm trees? Oceanus has plenty of sand to squish beneath your feet, and a multi-leveled terrace for those who would rather relax in the shade. There's even a rooftop deck to party on!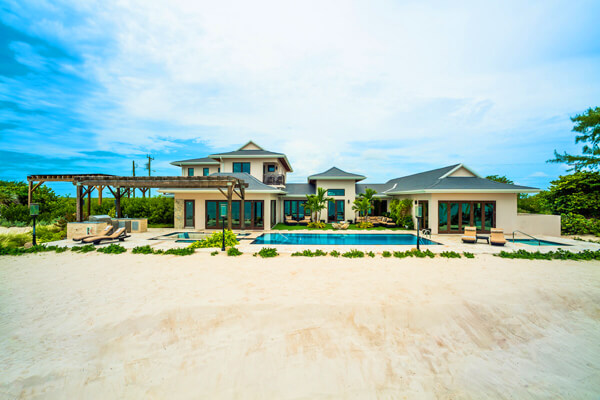 Want to splurge on a vacation for your closest loved ones?
Stepping Stone
has tons of luxury, activities for everyone, and four spacious bedrooms. Every room is oversized, and the exterior is unlike any other. Feeling adventurous? Take Stepping Stone's wave runners for a spin to check out the shipwrecks along the coast. After splashing around and exploring all day, come back to the villa to relax. While you're reclining in the sunken lounge with a drink in hand, kids or energetic friends can swim laps in the infinity pool next to you. Play a round of billiards in the game room or watch this year's blockbuster in the home theater. The beauty of Stepping Stone is that the designers have created something for everyone.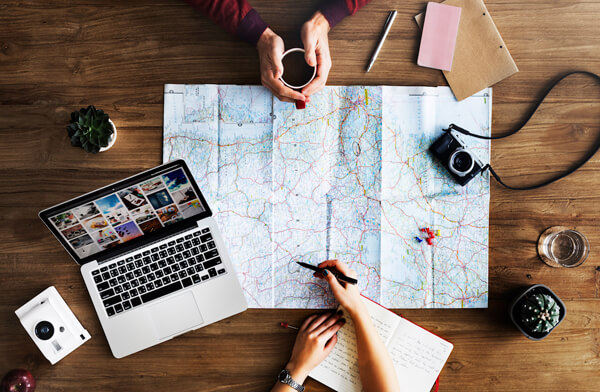 Whether you're vacationing with family or reuniting with old friends, there's something for everyone on Grand Cayman. Don't miss out on the
tropical getaway
of your dreams, book with WhereToStay today!