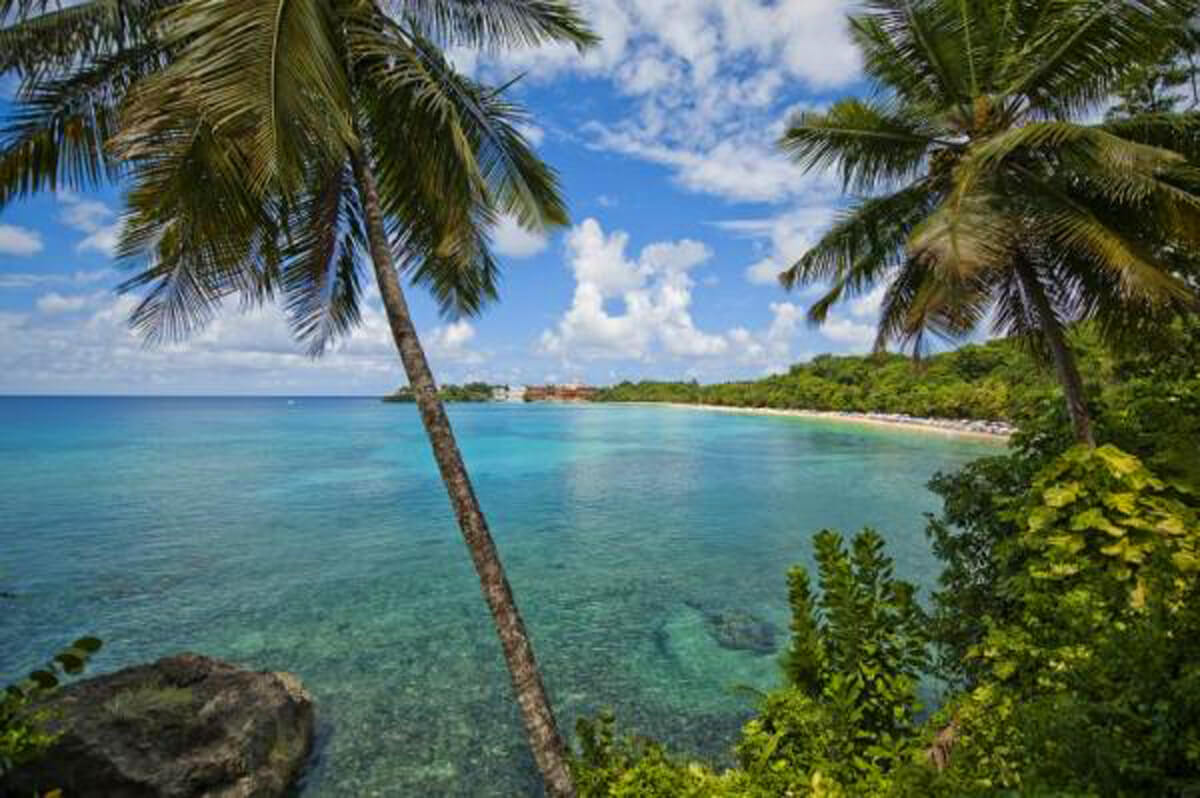 Yes, there are WAY more than five reasons to visit this stunning destination. However, this is a blog, not a thesis. We had to narrow it down a bit.
1. Diverse landscape.
DR boasts a seemingly endless stretch of white sand beaches – thousands of them, actually. Punta Cana / Bavaro beaches lie along the eastern coast; The eastern shore of the Peninsula Samana is where you'll find Playa Rincon; and Playa Boca Chica is a popular family friendly option 20 miles or so east of Santo Domingo. Don't limit your wanderings to the shore, though. The Dominican Republic's lush and mountainous interior are rich with opportunities to be adventurous – hiking, river rafting, rock climbing, zip lining, and mountain biking are just a few things to consider.
2. Waterfalls!
Swimming in gin-clear lagoon pools beneath a plunging waterfall? Yes, thank you! I realize technically this could be lumped in with the above paragraph. However, when you have a lure this amazing, it really should have its own category. The Dominican Republic boasts the Caribbean's highest waterfall, Salta Aqua Blanca (492 feet). Head over to the city of Constanza for tours and hikes there. In Jarabacoa National Park, you'll find Salto de Jimenoa, a 131-foot stunner. Adventurers will love the hiking trail through the jungle and over a narrow suspension bridge. If you're a strong swimmer, you should check out Damajagua Falls. It's a series of 27 falls. You can climb huge rocks, and jump or slide into the grottoes. Other waterfalls, like El Limon, are only accessible via horseback (win/win, in my humble opinion!).
3. Whale Watching.
If your visit to the DR occurs between mid-January through March, you will kick yourself if you miss this opportunity. That's when thousands of humpbacks migrate to do their mating and giving birth thing. The World Wildlife Fund considers Samana Bay one of the best places in the world for whale watching, too. You could quite possibly see as many as 300 whales. It's certainly not a new phenomenon for this area. Cave drawings from the aboriginal inhabitants of Los Haitises National Park depict spouting whales. Also, Columbus wrote about whale sightings along the north coast in 1943. Guided excursions are plentiful, so you have no excuse to miss this. Don't forget your camera – or just use your smart phone and be an Instagramming fool.
4. Villa life!
If you can't move to Paradise, why not pretend you live there? Villa life is the perfect way to immerse yourself in the culture and be free from the resort hustle and bustle. There are numerous
Villa rentals in the Dominican Republic
to fit any budget or size of your group. Caleton Villas in Cap Cana; Casa Bella Villa and Bali Dreams Villa in Cabrera; and Casa de Campo Villas in Casa de Campo are a few you'll want to check out.
5. Altos de Chavon.
You might think you've stepped into a Shakespeare play as you walk along the cobble stone streets of this medieval masterpiece. This quaint village is located in La Romana province, and overlooks the Chavon River. It was Robert Copa's creative solution to what to do with extra boulders, when local workers had to blast through stone in 1976 to make a road. Copa was once a successful set designer for Paramount Pictures. In the village, you'll find art galleries, the Regional Museum of Archaeology, the charming St. Stanislaus Church, and a Romanesque 5,000-seat ampitheater.
Interested in seeing Dominican Republic for yourself? Check out our
DR properties here
and we'll help you find "WhereToStay!"